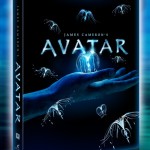 Those who listen to Film Actually regularly know that Josh and I have been boycotting the Blu-Ray release of James Cameron's 'Avatar'. This is not because we didn't like the film, on the contrary, we thought it was the film event of the year. We have been boycotting the vanilla release that came out a few months ago because we knew that an extended cut with bonus features was coming and I, for one, wasn't about to pay twice. The reason I bring this up is that the collector's edition now has a) a release date and b) details announced. Now all the details I'm about to discuss are for the Blu-Ray release because that is all I am interested in (and all true movie buffs should be heading to this format), all you DVD users should know that most of the details are the same but check your retailer for full details. A trailer for the collectors edition has also been released and you can watch that below.
Now that the trailer has you excited, here is what you can expect on your 3 disc collector's edition Blu-Ray: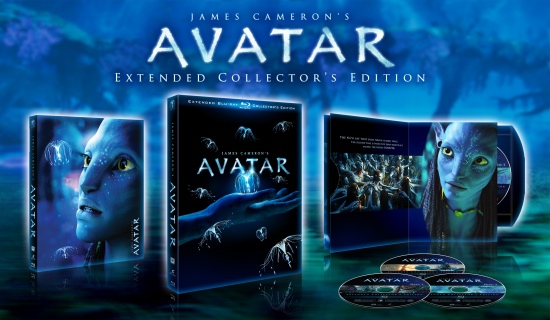 Disc One
Original Theatrical Version
Special Edition Re-Release
Collector's Extended Cut – 16 more minutes and exclusive alternate opening
One of the weirdest features I have seen, a Family Audio Track (All Objectionable Language Removed)
Original Theatrical Release
Special Edition Re-release
Disc Two
"Capturing Avatar" An in-depth feature length documentary with James Cameron, Jon Landau and cast and crew
Deleted Scenes – including over 45 minutes of new never-before-seen deleted scenes
Production Materials
Disc Three
Open "Pandora's Box" and go deeper into the filmmaker process
Interactive Scene Deconstruction: Explore the various stages of production through 3 different viewing modes
Production Shorts: 17 featurettes covering performance capture, scoring the film, 3D fusion camera, stunts and much more
Avatar Archives including original scriptment, 300 page screenplay and the extensive Pandorapedia
BD-live Portal with additional bonus materials
This is an amazing set and I can finally buy this film and have it in my collection. I think the quality of the special features can be summed up by James Cameron himself when he said,
"I told our team — let's do the ultimate box set of Avatar, with everything in it the fans could possibly want. There's an extended length cut that's sixteen minutes longer, plus documentaries, behind the scenes featurettes, artwork and over 45 minutes of deleted scenes. Everything worth putting into a special edition is in this set."
Okay, so how do you get it? The Avatar Collector's Edition will be out in the US and Canada on the 16th of November and in Australia on the 24th of November. You can pre-order it below:
North Americans should head over to Amazon by clicking here:
Avatar (Three-Disc Extended Collector's Edition + BD-Live) [Blu-ray]
Australians can pre-order a copy at EzyDVD here but I would suggest waiting until we find out what JB's price will be because we are getting screwed in Australia again. The Americans get the collector's edition for around US$35 and EzyDVD wants around AU$95 for the same thing. Considering the exchange rate at the moment we shouldn't be paying more than AU$40 for this.