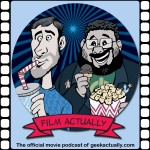 Hosts: David McVay, Josh Philpott & Shane Gregory
Welcome to the Film Actually podcast, your weekly dose of movie geek. Film Actually is the official movie podcast of geekactually.com.
This week David McVay and Josh Philpott are joined by Tech Actually regular Shane Gregory for a review of, 'Buried' starring Ryan Reynolds in a box. We also have some Entertainment Buzz including the new trailer for Danny Boyle's '127 Hours' and the full trailer for 'True Grit' and this week's Lists of Five is five claustrophobic films. Shane Gregory is our regular co-host on Tech Actually and the tech guy for DLC Live every Tuesday at rawDLC.com.
*Update 12/11/2011 – Film Actually was a split off from the main Geek Actually show and originally maintained numbering continuity with that show. That logic no longer works as the shows have become two unique entities, so we have gone back and re-numbered the Film Actually shows to reflect their true episode number. This show is now officially episode 11 but when you listen to the show you will hear it referred to as episode 103, this is why. Sorry about any confusion or inconvenience.
Film Actually is recorded live every Saturday at approximately 1.15pm (AEST UTC +10) at geekactually.com/live
Your show notes:
Feature Film Review
'Buried' directed by Rodrigo Cortés and written by Chris Sparling. It stars Ryan Reynolds in a box. It does have some good voice performances on the phone though from Stephen Tobolowsky, Samantha Mathis, Robert Paterson and José Luis Garcia Pérez.
The plot is simple and very Hitchcockian, Paul Conroy (Ryan Reynolds) wakes up to find himself bound and in a coffin buried under the ground. As the film unfolds you learn that he is a truck driver under contract in Iraq. His convoy was hit and he is being held for ransom. As time and air runs out he desperately spends his time on the cell phone left by his captors trying to find a way out of the box.
Watch the trailer here http://www.youtube.com/watch?v=GWVoUBgVcf8
Entertainment Buzz
A new action based trailer for 'The Walking Dead' – Not Viewable from Australia
http://www.slashfilm.com/2010/10/06/action-packed-trailer-the-walking-dead/
Scooby Doo, Yogi Bear, Rocky & Bullwinkle, enough with the CGI/Live cartoon adaptations! Mike Meyers to voice Pepé Le Pew!
http://nymag.com/daily/entertainment/2010/10/mike_myers_to_voice_pepe_le_pe.html
The new trailer for Danny Boyle's latest film '127 Hours'
http://www.youtube.com/watch?v=l0GycqTaXwQ&feature=player_embedded
Zack Snyder confirmed as director for the Christopher Nolan produced Superman reboot.
http://www.deadline.com/2010/10/zack-snyder-directing-superman/
Wonder Woman returning to the small screen with David E. Kelley leading the way.
http://www.deadline.com/2010/10/wonder-woman-returning-to-tv-as-series-written-and-produced-by-david-e-kelley/
And finally the full trailer for 'True Grit'
http://geekactually.com/2010/10/06/trailer-the-coen-brothers-true-grit-theatrical-trailer/
Lists of Five
This week, Five Claustrophobic Films. You can find this week's lists in our forum by clicking here.
This episode carries an explicit tag due to infrequent coarse language.
Listen or download it here or subscribe to it on iTunes
Podcast: Play in new window | Download
Film Actually is brought to you by listeners, just like you. Thanks for your contributions. If you wish to make a contribution, go to the "Support Us" link above.
Send feedback for this show to feedback@geekactually.com or leave us a voice mail message to play on the show at (Sydney number) 02 8011 3167 (you can also send us an mp3 file if you'd prefer). If you are an iTunes user, please leave a review. Your comments (good or bad) help us improve the show.
Join us on our Facebook Fan Page: facebook.com/GeekActually
Follow David on Twitter: twitter.com/davidmcvay
Get your Geek Actually swag at cafepress.com.au/geekactually
Make sure you check out our other fine podcasts – Tech Actually and The Geek Actually After Show.
Find out more about Josh and Shane's other show and blog by going to rawDLC.com
A special shout out to Josh Spencer over at Spencer Cartoons who is currently working on our new cover art images and they are brilliant – find out more about Josh Spencer over at http://attackninja.blogspot.com/
For information on the Unofficial Geek Actually Movie Club screening times and titles, visit our forum.