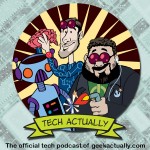 Hosts: David McVay, Josh Philpott & Shane Gregory
This is the official tech podcast of geekactually.com. The tech show by geeks for geeks and non-geeks. Accessible tech for everyone is the motto we live by. This week on Tech Actually we take a look at the latest news about the Australian National Broadband Network, examine the facts vs. the theory of Stuxnet and with the help of some listener feedback we continue to build up evidence of the impending robot apocalypse. You show links follow:
Tech Actually is recorded live on Saturdays at 12pm (AEST UTC+10). Go to geekactually.com/live to watch it live.
Your show notes follow:
Feedback & Follow Up
Listener Matt writes to tell us about the spending spree of our government
Listener Northy has found this video about a robot that learns archery – spooky.
http://www.youtube.com/watch?v=QCXvAqIDpIw
Listener DeltaKnight has been hanging out in Gizmodo and sent us an email with our first four stories – thank you Delta
Further evidence of the Robot Apocalypse
http://www.gizmodo.com.au/2010/10/the-robotic-sentinels-guarding-the-largest-nuke-site-in-the-us/
Straight from the stories of Star Trek – the artificial heart
http://www.gizmodo.com.au/2010/10/boy-becomes-first-human-to-live-with-permanent-robot-heart/
Steve Jobs a control freak – no say it isn't so :-)
http://www.gizmodo.com.au/2010/10/adidas-dumps-us10m-iad-due-to-control-freak-steve-jobs/
Latest high tech transport is postively low tech, oh yeah and Australian!
http://www.gizmodo.com.au/2010/10/the-future-of-cargo-transport-is-a-slow-aussie-ufo/
This Week's News
Spielberg now wants the Halo movie rights
http://www.news.com.au/technology/spielbergs-hand-up-for-tilt-at-halo-movie/story-e6frfro0-1225935308539
Microsoft joins the company buying trend big time – it is eyeing Adobe
http://www.news.com.au/technology/flash-asset-microsoft-eyes-buying-adobe-in-recruitment-drive-to-fend-off-apple/story-e6frfro0-1225935796519
Finally someone is taking the term 'Unlimited broadband' to task
http://www.smh.com.au/technology/technology-news/optus-unlimited-plans-like-disintegrating-car-judge-20101006-166o9.html
More mind control stuff – this time a wheelchair
http://www.smh.com.au/technology/sci-tech/mindcontrolled-wheelchair-aims-to-make-life-easier-for-disabled-20101006-167ly.html
New iPhone bug discovered – Alarm doesn't take daylight savings into account
http://www.smh.com.au/digital-life/iphone/dont-be-alarmed-but-your-iphone-may-have-a-daylight-saving-bug-20101005-165d5.html
CNET has released a great Stuxnet Theory Vs Fact article
http://news.cnet.com/8301-27080_3-20018530-245.html?part=rss&subj=news&tag=2547-1_3-0-20
Topic of the Week – What's new with the NBN?
Another quick update on our forthcoming NBN
Tasmanian laws changed to make the NBN roll out run smoother.
http://www.smh.com.au/technology/technology-news/tasmanians-to-be-forced-to-connect-to-nbn-under-new-laws-20101006-167vi.html
The NBN could leave Australia unprepared for cyber attack?
http://www.news.com.au/technology/national-broadband-network-will-leave-australia-woefully-unprepared-for-cyber-attacks/story-e6frfro0-1225935261135
Malcolm Turnbull, in good opposition style, says the NBN will not save people money
http://www.smh.com.au/technology/technology-news/turnbull-says-65-a-month-will-keep-most-off-broadband-20101004-164ek.html
iPhone Apps
Our pick of the week in iPhone/iPad apps. Josh recommends DropText from Invisions Technical Arts (AU$1.19) and the game Sketch Nation Shooter by Engineous Games (free). Shane recommends the IGN App by Fox Interactive (free). David recommends We Farm and We City both from ngmoco (and both free) for the social gamers.
As always this episode carries an explicit tag due to some bad language.
Listen or download it here or subscribe to it on iTunes
Podcast: Play in new window | Download
Tech Actually is brought to you by listeners, just like you. Thanks for your contributions. If you wish to make a contribution, go to the "Support Us" link above.
Send feedback for this show to geektech@geekactually.com or leave us a voice mail message to play on the show at (Sydney Number) 02 8011 3167 (you can also send us an mp3 file if you'd prefer). If you are an iTunes user, please leave a review when the feed is established so we can build our audience. Your comments (good or bad) help us improve the show.
Join us on our Facebook Fan Page: facebook.com/GeekActually
Get your Geek Actually swag at cafepress.com.au/geekactually
We also want to give a big shout out to Josh Spencer over at Spencer Cartoons who is currently working on our new cover art images and they are brilliant – find out more about Josh Spencer over at http://attackninja.blogspot.com/
Make sure you check out our other fine podcasts – Film Actually and The Geek Actually After Show.