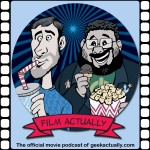 Hosts: David McVay, Josh Philpott & Shane Gregory
Welcome to the Film Actually podcast, your weekly dose of movie geek. Film Actually is the official movie podcast of geekactually.com.
This week David McVay and Josh Philpott are again joined by Tech Actually regular Shane Gregory for a review of, 'Let Me In' the remake of the Swedish film 'Let The Right One In'. We also have some Entertainment Buzz and a brand new List of Five. This week's List is five bloodsuckers in movies. Shane Gregory is our regular co-host on Tech Actually and the tech guy for DLC Live every Tuesday at rawDLC.com.
*Update 12/11/2011 – Film Actually was a split off from the main Geek Actually show and originally maintained numbering continuity with that show. That logic no longer works as the shows have become two unique entities, so we have gone back and re-numbered the Film Actually shows to reflect their true episode number. This show is now officially episode 12 but when you listen to the show you will hear it referred to as episode 104, this is why. Sorry about any confusion or inconvenience.
Film Actually is recorded live every Saturday at approximately 1.15pm (AEST UTC +10) at geekactually.com/live
Your show notes:
Feature Film Review
'Let Me In' written and directed by Matt Reeves based on the novel and screenplay 'Let The Right One In' by John Ajvide Lindqvist. It stars Kodi Smit-McPhee, Chloe Moretz, Richard Jenkins, Cara Buono and Elias Coteas.
In the first film from legendary British horror brand Hammer Films in 30 years, 'Let Me In' is the story of a mysterious 12 year old girl, Abby, who moves in next door to social outcast Owen. Owen is terrorized by bullies at school and in his loneliness he forms a profound bond with Abby, another loner. Through their friendship, Owen find an inner strength he didn't know existed. As the sleepy New Mexico town is struck by a string of murders and Abby's behaviour become increasingly stranger, Owen has to confront the reality that Abby is actually a vampire.
Watch the trailer here http://www.youtube.com/watch?v=reRRAEVHq8E
Our Verdict: Mixed. David felt that the film was good film with enough to make the film it's own creature, but still very respectful of the original but ultimately the original was a better, deeper film. Josh felt that the film was virtually a shot for shot remake which make it all feel vaguely pointless. If there had not been an original film, then this would have been a great film but there was and this one will always pale in comparison. It is a good, heated debate on this one.
Entertainment Buzz
Napoleon Dynamite coming to TV as an animated series
http://livefeed.hollywoodreporter.com/2010/10/fox-gives-series-order-to-napoleon-dynamite-pic.html
An adult Muppet murder mystery – hell yes!
http://heatvision.hollywoodreporter.com/2010/10/lionsgate-jim-henson-happytime-murders.html
Mad Max Fury Road (4) has been delayed again, what's new?
http://www.slashfilm.com/2010/10/09/filming-delayed-for-mad-max-fury-road-production-may-not-resume-until-2012/
…and continuing Tom Hardy news, he joins the cast of Batman 3
http://www.deadline.com/2010/10/tom-hardy-reunited-with-inception-helmer-chris-nolan-on-batman/
Rivalry in the comic book world is alive and well
http://www.comicbookmovie.com/fansites/joshw24/news/?a=23674
And while we are talking about Superheroes – the new Spider-Man villain is…The Lizard
http://www.thewrap.com/movies/column-post/exclusive-sony-new-spider-man-villain-lizard-21693
And finally, Aaron Sorkin responds to the Allegations of sexism in The Social Network
http://kenlevine.blogspot.com/2010/10/aaron-sorkin-responds-to-commenter-in.html
Lists of Five
This week, Five Bloodsuckers in Movies. You can find this week's lists in our forum by clicking here.
This episode carries an explicit tag due to infrequent coarse language.
Listen or download it here or subscribe to it on iTunes
Podcast: Play in new window | Download
Film Actually is brought to you by listeners, just like you. Thanks for your contributions. If you wish to make a contribution, go to the "Support Us" link above.
Send feedback for this show to feedback@geekactually.com or leave us a voice mail message to play on the show at (Sydney number) 02 8011 3167 (you can also send us an mp3 file if you'd prefer). If you are an iTunes user, please leave a review. Your comments (good or bad) help us improve the show.
Join us on our Facebook Fan Page: facebook.com/GeekActually
Follow David on Twitter: twitter.com/davidmcvay
Get your Geek Actually swag at cafepress.com.au/geekactually
Make sure you check out our other fine podcasts – Tech Actually and The Geek Actually After Show.
Find out more about Josh and Shane's other show and blog by going to rawDLC.com
A special shout out to Josh Spencer over at Spencer Cartoons who is currently working on our new cover art images and they are brilliant – find out more about Josh Spencer over at http://attackninja.blogspot.com/
For information on the Unofficial Geek Actually Movie Club screening times and titles, visit our forum.