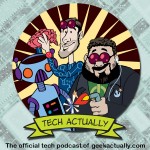 Hosts: David McVay, Josh Philpott & Shane Gregory
This is the official tech podcast of geekactually.com. The tech show by geeks for geeks and non-geeks. Accessible tech for everyone is the motto we live by. This week on Tech Actually we take a look at the latest iPhone issue, 'Glassgate' and the launch of the new Windows Phone 7 handsets. Along the way we squeeze in a little Duke Nuke'm, a little National Broadband Network and even a little crazy Apple censorship for good measure. So sit back and enjoy the show. You show links follow:
Tech Actually is recorded live on Saturdays at 12pm (AEST UTC+10). Go to geekactually.com/live to watch it live.
Your show notes follow:
Feedback
Listener DeltaKnight has sent us another wonderful email with lots of links again, this time the email is a little long to read the whole thing but I have integrated most of his links into the line up, so thanks again Deltaknight.
This Week
Real or beat up? Apple's iPhone 4 weathered Antennaegate and now we have this crap.
Ryan at GDGT wrote the original article
http://gdgt.com/discuss/with-antennagate-over-is-glassgate-next-iphone-ani/
Followed it up with this article
http://gdgt.com/discuss/following-up-on-yesterdays-glassgate-story-wanted-aod/
And now it is picked up by mass media, so it must be true, right?
http://www.news.com.au/technology/iphone/glassgate-more-cracks-appear-in-iphone-4/story-fn5sd1vk-1225937131068
Now a warranty firm gets in on the action
http://www.news.com.au/technology/iphone/warranty-firm-says-apple-iphone-4-clearly-more-prone-to-damage-than-iphone-3g/story-fn5sd1vk-1225939042866
Can we stop using 'gate', it is meaningless. Watergate was the name of a hotel, thus the name.
Duke Nuke'm News
http://www.news.com.au/technology/is-duke-nukem-too-old-to-make-it-in-todays-world/story-e6frfro0-1225938292750
and the fans take over
http://www.news.com.au/technology/fan-made-duke-nukem-next-gen-gets-go-ahead/story-e6frfro0-1225939006130
Malcolm Turnball concedes that the opposition wouldn't tear up the NBN
http://www.smh.com.au/technology/technology-news/turnbull-says-built-network-wont-be-torn-up-20101012-16ht5.html
…and while we are talking NBN
http://www.news.com.au/technology/customers-may-be-forced-on-to-nbn-to-keep-phones/story-e6frfro0-1225937431618
ACMA Blacklist complaints increase three fold this year
http://www.computerworld.com.au/article/364349/online_complaints_increase_three_fold_acma/
Big Brother, sorry I mean Apple strikes again – it wants to censor TXT messages
http://www.news.com.au/technology/apple-can-stop-sexting-on-the-iphone-through-patent/story-e6frfro0-1225938579181
Topic of the Week – Windows Phone 7 Launched
Windows Phone 7 finally announced, was it worth the wait?
http://www.news.com.au/technology/microsoft-unveils-windows-7-for-smart-phones/story-e6frfrnr-1225937445910
The Windows Phone 7 features
http://www.pcworld.com/article/189347/windows_phone_7_an_indepth_look_at_the_features_and_interface.html#
The Windows Phone 7 handsets
http://gizmodo.com/5660886/all-the-windows-phone-7-phones
Watch the announcement video
http://www.youtube.com/watch?v=5q-HtdW03Zs&feature=channel
Apps of the Week
Our pick of the week in iPhone/iPad apps. David picked 'Geared' (for the iPhone) and Geared HD (for the iPad) by Bryan Mitchell both are $1.19 each and 'Note Taker HD' (for iPad) by Software Garden for $5.99. Josh picked 'CamScanner+' (iPhone) by IntSig Information Co for $5.99 and 'Mirror's Edge' (iPhone) by Electronic Arts for $1.19. Shane picked 'Tap Zoo' (iPhone) by Streetview Labs, it's free and 'Ringtone Maker' (iPhone) by Zentertain and it is also free.
As always this episode carries an explicit tag due to some bad language.
Listen or download it here or subscribe to it on iTunes
Podcast: Play in new window | Download
Tech Actually is brought to you by listeners, just like you. Thanks for your contributions. If you wish to make a contribution, go to the "Support Us" link above.
Send feedback for this show to geektech@geekactually.com or leave us a voice mail message to play on the show at (Sydney Number) 02 8011 3167 (you can also send us an mp3 file if you'd prefer). If you are an iTunes user, please leave a review when the feed is established so we can build our audience. Your comments (good or bad) help us improve the show.
Join us on our Facebook Fan Page: facebook.com/GeekActually
Get your Geek Actually swag at cafepress.com.au/geekactually
We also want to give a big shout out to Josh Spencer over at Spencer Cartoons who is currently working on our new cover art images and they are brilliant – find out more about Josh Spencer over at http://attackninja.blogspot.com/
Make sure you check out our other fine podcasts – Film Actually and The Geek Actually After Show.