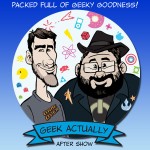 Hosted by: David McVay, Josh Philpott & Shane Gregory
Welcome to the Geek Actually After Show. This un-stuctured and un-planned podcast is what what you get after we finish recording the two main shows Tech Actually and Film Actually. We basically just leave the mics on and record whatever we feel like talking about. This show gives us a chance to talk about anything that didn't fit into the format of the main shows.
The Geek Actually After Show is recorded live on Saturdays around 2.30pm (AEST UTC+10). Go to geekactually.com/live to watch it live.
You show notes follow:

This week our ramblings included:
A discussion about 'Ankling', or in layman's terms, walking out of a movie before it finishes. Listener Geek Betty sent us an interesting email with this link:
http://m.smh.com.au/entertainment/movies/super-stinkers-movies-our-critics-walked-out-on-20101014-16lf3.html
The story is all about various film critics and their opinions on leaving before the end of a film and their policies on the matter. This gets us talking about our views on the subject.
Also on the show:
After years in movie purgatory, Dwayne 'The Rock' Johnson returns to action, we watch the 'Faster' trailer.
http://www.slashfilm.com/2010/10/11/movie-trailer-2-faster/
And listener DeltaKnight sent us this great geek picture and we had to share.
http://www.geeksaresexy.net/2010/10/12/pc-vs-mac-vs-amigaaaaaaaa/
As always this episode carries an explicit tag due to some bad language.
Listen or download it here or subscribe to it on iTunes
Podcast: Play in new window | Download
Geek Actually is brought to you by listeners, just like you. Thanks for your contributions.
If you have any comments about the episode please leave them in the comments field below or email us at feedback@geekactually.com or send us a voicemail at 02 8011 3167 (If you'd prefer to send an mp3 voice mail, mail it to the email address above and make sure the file is under 10mb.). If you are an iTunes user, please leave a review.
Join us on our Facebook Fan Page: facebook.com/GeekActually
Make sure you check out our new range of Geek Actually swag at cafepress.com.au/geekactually
For information on the Unofficial Geek Actually Movie Club screening times and titles, visit our forum.