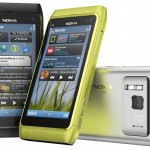 Yesterday Josh and I attended the Nokia Launch event for the new N8, Nokia's new flagship product. Before we go on I have to stress that this is not a full review for the phone itself as I am currently testing the phone and I will post the full review of the handset in a few days. This article is about the event itself and a few preliminary thoughts on the new N8 as seen at the event.
It was a fairly small event, a surprise as I thought it would have been a much larger affair considering that Nokia still commands such a large market share of the mobile market. At a rough guess I would say that there were about thirty journalists etc there and this brings me to the first problem, only four chairs. Yes, you read that right, four chairs. It was a standing event which made taking notes and shooting pictures/video a little difficult. This was a little badly planned in my opinion. Secondly the two speakers, Nokia Australia chief Emile Baak and product demonstrator Stephen Wright, seemed to lack enthusiasm. Say what you like about Steve Jobs, there is no denying he is a consummate public speaker. Jobs can get up in front of a crowd and talk about any product and we all want to buy it. The Nokia spokespeople didn't sell me on the phone. The presentation was all a little ho-hum.
The event was supposed to, according to the invite, give us an insight into "Nokia's aggressive renewal of it's smartphone strategy" and "The company's long-term platform strategy", unfortunately their strategy seems to be to put all their eggs in one basket with this new phone. It would also seem, going by this event, that Nokia's main strategy is in photography because at first glance of the N8 it would seem to be a good camera with a phone tacked onto it. This was not a solitary opinion as when the event turned into question time, the journalists almost dripped venom as they dug into the Nokia representatives. I haven't seen a crowd this hostile in sometime. The journalists wanted what was promised on the invite and they were not getting it, they were getting a nice camera phone. As an example, when a journalist asked Mr. Baak a question about the percentage of Australian users on the Nokia market site, Ovi, Mr.Baak simply told the Journalist that he couldn't answer that. When pushed on into answering why, Mr. Baak said it was company policy. My question at this point is why is it company policy? Is the percentage of Australian users so low that it is a little embarrassing, or is there another reason? Nokia isn't saying.
Finnish company Nokia, once the dominant mobile phone company, has been losing ground in the smart phone market lately. Android, Apple and even the new Windows Phone 7 Series are all offering newer, more innovative devices. Nokia has decided to stay with the ageing, Java based, Symbian system (the N8 boasts the new Symbian 3) rather than create something new and fresh. Symbian 3 is very much like the earlier Symbian, just polished up on the interface side of things. The first thing I noticed when I started using the N8 is how sluggish the system is. More on that when I review the phone. Also the awful Symbian web browser has seemingly had no work done to it at all as it took minutes to load a website (over Wi-Fi!) that loaded in seconds on the iPhone 4 (also on Wi-Fi). It really makes me feel like Symbian 3 isn't that big of an upgrade. The camera is impressive. Carl Zeiss lens and 12 megapixels of resolution goodness. The early tests I have shot are awesome. But this is suppose to be a smart phone with a camera, not a camera with a smart phone.
If it seems I am being prematurely harsh on the N8, you're right. I was a huge Nokia fan boy and even paid full price (over $1000) for the N90 the day it was released, over the last few years I have slipped further and further away from Nokia because, although I have often liked the hardware (the N95 is a great phone), the Symbian operating system, in my opinion, is dated and slow. Also, I live in both the Mac and PC worlds and Nokia is showing less and less support for the Mac platform, the N8 isn't even seen by the Mac when plugged in. Considering that Apple is now recording a 10% market share on their computers (not mobile devices) in America, it is no surprise to find out that Nokia has never really been able to crack the US smart phone market.
Overall, the phone is quite nice and the hardware boasts some really nice features like HDMI out with Dolby surround, the already mentioned 12 megapixel camera with 720p HD video recording, a nice bright 640×360 3.5″ AMOLED capacitive touch screen and my favourite feature, the ability to plug a USB or external hard drive straight into the phone and transfer files in both directions – brilliant! I am actually looking forward to using the N8 over the next few days to see what it can really do. Nokia is certainly betting the farm on this one phone so I am expecting, Symbian aside, good things from it. And worst case scenario, I should get some pretty pictures out of it.
What are your thoughts on Nokia's new N8 handset? Are you excited about it? Let us know in the comments below.