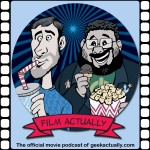 Hosts: David McVay, Josh Philpott & Celine Roberts
Welcome to the Film Actually podcast, your weekly dose of movie geek. Film Actually is the official movie podcast of geekactually.com.
This week David McVay and Josh Philpott are  joined by Celine Roberts for a review of Ben Affleck's new film 'The Town'. We also have some Entertainment Buzz and a brand new List of Five. This week's List is five great heist films.
*Update 12/11/2011 – Film Actually was a split off from the main Geek Actually show and originally maintained numbering continuity with that show. That logic no longer works as the shows have become two unique entities, so we have gone back and re-numbered the Film Actually shows to reflect their true episode number. This show is now officially episode 13 but when you listen to the show you will hear it referred to as episode 105, this is why. Sorry about any confusion or inconvenience.
Film Actually is recorded live every Saturday at approximately 1.15pm (AEST UTC +10) at geekactually.com/live
Your show notes follow:
Feature Film Review
'The Town' directed by Ben Affleck and written by Peter Craig, Ben Affleck and Aaron Stockard and is based on the book 'Prince of Thieves' written by Chuck Hogan. It stars Ben Affleck, Jeremy Renner, Rebecca Hall, Jon Hamm, Blake Lively, Pete Postlethwaite and Chris Cooper.
Doug MacRay was born and raised in Charlestown, a blue-collar neighborhood in Boston, where crime is a part of life. Charlestown is the world's capital for carjacking, kidnappings, and armed robberies. The tricks of the criminal trade are passed down from father to son. Doug is the brains of a gang of bank robbers who have been able to get out clean after each bank robbery. But Doug knows that his luck will not last forever and he wants out. Things get complicated when he falls for the manager of bank he has robbed. Getting out may not be as easy as he thinks as his best friend and right-hand man, Jem, believes that it would be a personal betrayal to him. He also has to deal with an FBI agent looking to bring him and his crew down.
Our Verdict: Great performances and exciting action scenes make this a really good movie that is let down by a very poor, Hollywood style ending.
Watch the trailer here http://www.youtube.com/watch?v=bWxEKnf3Krk
Entertainment Buzz
Next year is going to be superhero TV First Wonder Woman now a new Hulk series
http://www.deadline.com/2010/10/abc-developing-incredible-hulk-series/
Zack Snyder looking for an older Superman but the fans want Brandon Routh
http://www.slashfilm.com/2010/10/20/zack-snyder-middle-aged-superman/
The Crow remake, Mark Wahlberg in and Stephen Norrington walks.
http://www.slashfilm.com/2010/10/21/the-crow-remake-director-stephen-norrington-moved/
With David O. Russell now signed to direct the Uncharted film, Nathan Fillion starts his own Twitter campaign to get he role of Drake.
http://www.slashfilm.com/2010/10/15/nathan-fillion-twitter-campaigning-to-star-in-uncharted-drakes-fortune/
And finally we have a The Hobbit update:
Peter Jackson and Warner Bros. Play chicken with the unions
http://www.stuff.co.nz/the-press/entertainment/4255670/Hobbit-going-offshore
and the unions flinch but the production might leave New Zealand anyway
http://www.deadline.com/2010/10/acting-guilds-settle-beefs-with-the-hobbit/
Lists of Five
This week, Five Great Heist Movies. You can always catch up with our lists by visiting the forum.
This episode carries an explicit tag due to infrequent coarse language.
Listen or download it here or subscribe to it on iTunes
Podcast: Play in new window | Download
Film Actually is brought to you by listeners, just like you. Thanks for your contributions. If you wish to make a contribution, go to the "Support Us" link above.
Send feedback for this show to feedback@geekactually.com or leave us a voice mail message to play on the show at (Sydney number) 02 8011 3167 (you can also send us an mp3 file if you'd prefer). If you are an iTunes user, please leave a review. Your comments (good or bad) help us improve the show.
Join us on our Facebook Fan Page: facebook.com/GeekActually
Follow David on Twitter: twitter.com/davidmcvay
Get your Geek Actually swag at cafepress.com.au/geekactually
Make sure you check out our other fine podcasts – Tech Actually and The Geek Actually After Show.
Find out more about Josh and Shane's other show and blog by going to rawDLC.com
Our show logo is by Josh Spencer over at Spencer Cartoons at http://attackninja.blogspot.com/
For information on the Unofficial Geek Actually Movie Club screening times and titles, visit our forum.