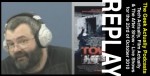 Here are this week's live shows presented in the same order that we recorded them. We start with Tech Actually then Film Actually and end the day with the After Show.
Because the show is live, you get it here with all the mistakes intact. Check the individual audio show posts for the show notes. This week in Tech Actually, David & Josh report on two big events: The Nokia N8 launch and the Apple October announcement. In Film Actually David, Josh and Celine review 'The Town', look over the weeks entertainment news and give our lists of great heist movies. In this week's Geek Actually After Show we geek out over a bunch of links sent in by listener DeltaKnight including the football sized sandwich called The Big Fat Ugly. Enjoy the shows.
The Geek Actually podcasts are recorded live every Saturday from 12pm (AEDST) or UTC +11 at geekactually.com/live
Tech Actually Ep 105 – Robots Can Lie
Film Actually Ep 105 – The Big Heist
Geek Actually Ep 105 – The Big Fat Ugly
All Geek Actually shows carry an explicit tag due to infrequent coarse language.
You can subscribe to the audio podcasts by searching for Film Actually, Tech Actually or Geek Actually in iTunes
You can leave us a voice mail to play on the show by calling (Sydney number) 02 8011 3167 (or Skype ID: geekactually)
Join us on our Facebook Fan Page: facebook.com/GeekActually
Follow David on Twitter: twitter.com/davidmcvay
Get your Geek Actually swag at cafepress.com.au/geekactually
For information on the Unofficial Geek Actually Movie Club screening times and titles, visit our forum.
Geek Actually logos by Josh Spencer (attackninja.blogspot.com) – Tech Actually Theme by Grant Noy – Geek Actually Theme by David McVay