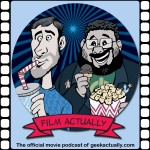 Hosts: David McVay & Josh Philpott
Welcome to the Film Actually podcast, your weekly dose of movie geek. Film Actually is the official movie podcast of geekactually.com.
This week David McVay and Josh Philpott review the new David Fincher film 'The Social Network'. We also have some Entertainment Buzz including updates on the status of 'The Hobbit' and a brand new List of Five. This week's List is five other great films about real people.
*Update 12/11/2011 – Film Actually was a split off from the main Geek Actually show and originally maintained numbering continuity with that show. That logic no longer works as the shows have become two unique entities, so we have gone back and re-numbered the Film Actually shows to reflect their true episode number. This show is now officially episode 14 but when you listen to the show you will hear it referred to as episode 106, this is why. Sorry about any confusion or inconvenience.
Film Actually is recorded live every Saturday at approximately 1.15pm (AEST UTC +10) at geekactually.com/live
Your show notes:
Feature Film Review
'The Social Network' directed byDavid Fincher and written by Aaron Sorkin and based on the book 'The Accidental Billionaires' by Ben Mezrich. It stars Jesse Eisenberg, Andrew Garfield, Armie Hammer, Justin Timberlake and Rashida Jones.
On a fall night in 2003, Harvard undergrad and computer programming genius Mark Zuckerberg sits down at his computer and heatedly begins working on a new idea. In a fury of blogging and programming, what begins in his dorm room soon becomes a global social network and a revolution in communication. A mere six years and 500 million friends later, Mark Zuckerberg is the youngest billionaire in history… but for this entrepreneur, success leads to both personal and legal complications. – Source Columbia Pictures
Our Verdict: Simple, this is the film of the year. Go see it.
Watch the trailer here http://www.youtube.com/watch?v=lB95KLmpLR4&feature=channel
Entertainment Buzz
The Hobbit is staying in New Zealand, Jackson and Warner Bros. get the law changed.
http://www.news.com.au/entertainment/movies/the-hobbit-to-be-made-in-new-zealand-prime-minister-announces/story-e6frfmvr-1225944378961
and http://www.latimes.com/entertainment/news/sns-ap-as-film-the-hobbit,0,2865586.story
Here is a video from NZ TV show Close Up that tries to explain why this came about.
http://www.youtube.com/watch?v=XoUN2AGxrnA&feature=player_embedded
New Tron Legacy clip released
http://www.youtube.com/watch?v=WawgG1KE6jM&feature=player_embedded
Disney afraid to release original Tron on Blu-Ray – or are they just smart?
http://blueskydisney.blogspot.com/2010/10/tron-blu-s.html
And just in case you haven't had enough Tron, here is a Daft Punk music video.
http://www.youtube.com/watch?v=_6Afc2uzw4g
Batman 3 gets a title and won't be in 3D! – Go Nolan, Go Nolan, Go Nolan!
http://herocomplex.latimes.com/2010/10/27/christopher-nolan-reveals-title-of-third-batman-film-and-that-it-wont-be-the-riddler/
and http://herocomplex.latimes.com/2010/10/27/nolan-dark-knight-rises-finds-the-future-in-imax-not-3d/
Captain America revealed – Entertainment Weekly gets some exclusives
http://www.comicbookmovie.com/captain_america/news/?a=24543
Lists of Five
This week's List is five other great films about real people (yeah I know, I could have just said Bio pic, but that is boring). See our forum to read the lists.
This episode carries an explicit tag due to infrequent coarse language.
Listen or download it here or subscribe to it on iTunes
Podcast: Play in new window | Download
Film Actually is brought to you by listeners, just like you. Thanks for your contributions. If you wish to make a contribution, go to the "Support Us" link above.
Send feedback for this show to feedback@geekactually.com or leave us a voice mail message to play on the show at (Sydney number) 02 8011 3167 (you can also send us an mp3 file if you'd prefer). If you are an iTunes user, please leave a review. Your comments (good or bad) help us improve the show.
Join us on our Facebook Fan Page: facebook.com/GeekActually
Follow David on Twitter: twitter.com/davidmcvay
Get your Geek Actually swag at cafepress.com.au/geekactually
Make sure you check out our other fine podcasts – Tech Actually and The Geek Actually After Show.
Find out more about Josh and Shane's other show and blog by going to rawDLC.com
Our show logo is by Josh Spencer over at Spencer Cartoons at http://attackninja.blogspot.com/
For information on the Unofficial Geek Actually Movie Club screening times and titles, visit our forum.
NB. This week we had a technical glitch and the audio recording got messed up so we extracted the audio from the live video feed for this weeks podcast. Sorry for any drops in quality.