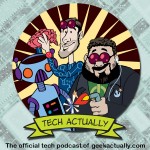 Hosts: David McVay & Josh Philpott
This is the official tech podcast of geekactually.com. The tech show by geeks for geeks and non-geeks. Accessible tech for everyone is the motto we live by. This week on Tech Actually we wade our way through some listener feedback and take a look at iDos, the latest casualty of the App Store. All this as well as our usual light hearted look at the week in tech. So sit back and enjoy the show.
Tech Actually is recorded live on Saturdays at 12pm (AEST UTC+10). Go to geekactually.com/live to watch it live.
Your show notes follow:
Feedback & Follow Up
Listener GeekBetty and Listener DeltaKnight both sent in the link to this horrific looking thing. Not only will the robot's kill us, now we seem to want them to replace us.
http://www.engadget.com/2010/10/27/actroid-f-the-angel-of-death-robot-coming-to-a-hospital-near-yo/
And while we are talking about robots, DeltaKnight has pointed us to this one
http://www.engadget.com/2010/10/24/fauxhawk-robot-exterminates-wasps-is-something-of-a-fashion-vic/
How long until the Wasp Killer become the human killer!
And he also points us to this little War Games number
http://www.gizmodo.com.au/2010/10/us-lost-command-of-one-ninth-of-intercontinental-missiles/
Our listener Tristen also wrote us a wonderful telling us his feelings towards the N8. He also shared with us a disturbing issue with Android Apps.
http://www.gaj-it.com/25434/25434/
And finally RogueShire sent us this great Halloween Costume
http://gizmodo.com/5675561/the-best-iphone-4-costume-conceivable
This Week
The NBN needs $150 million dollars worth of batteries!
http://www.theaustralian.com.au/news/nation/nbn-batteries-to-cost-150m-a-year/story-e6frg6nf-1225944418464
Graphene, is it the new Zinc Oxide?
http://www.gizmodo.com.au/2010/10/water-plus-graphene-will-soon-equal-computers/
Do we take the jet or the helicopter? Why not both!
http://www.gizmodo.com.au/2010/10/watch-darpas-retractable-rotor-helicopter-concept-redefine-flight/
Is the Playstation Phone real or a hoax?
http://www.engadget.com/2010/10/26/the-playstation-phone/
The Bill Gates household has got to get over the prejudice
http://www.gizmodo.com.au/2010/10/melinda-gates-denies-her-children-the-sweet-delicious-temptation-of-apple-procudts/
Feature of the Week
Josh tell us about iDos, the Dos emulator for iPad.
http://www.gizmodo.com.au/2010/10/apple-approved-dos-emulator-for-ipad-is-like-the-original/
Apps of the Week
This week David recommends 'Dawn of the Dead' for iPhone by Bytemark Games (free) and 'Land Air Sea Warfare HD' for iPad by Isotope 244 ($12.99) and Josh recommends 'Audio Memos' for iPad by Imesart (free) and 'Galaxy on Fire 2' for iPhone by Fishlabs ($8.99), 'Modern Combat 2: Black Pegasus' for iPad by Gameloft ($12.99) and 'Battle for Wesnoth' for iPad by Kyle Poole ($1.19).
As always this episode carries an explicit tag due to some bad language.
Listen or download it here or subscribe to it on iTunes
Podcast: Play in new window | Download
Tech Actually is brought to you by listeners, just like you. Thanks for your contributions. If you wish to make a contribution, go to the "Support Us" link above.
Send feedback for this show to geektech@geekactually.com or leave us a voice mail message to play on the show at (Sydney Number) 02 8011 3167 (you can also send us an mp3 file if you'd prefer). If you are an iTunes user, please leave a review when the feed is established so we can build our audience. Your comments (good or bad) help us improve the show.
Join us on our Facebook Fan Page: facebook.com/GeekActually
Get your Geek Actually swag at cafepress.com.au/geekactually
We also want to give a big shout out to Josh Spencer over at Spencer Cartoons who is currently working on our new cover art images and they are brilliant – find out more about Josh Spencer over at http://attackninja.blogspot.com/
Make sure you check out our other fine podcasts – Film Actually and The Geek Actually After Show.