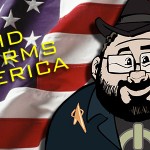 Okay, here's the deal. We have been producing podcasts and running our site for over two years now and we have a really loyal fan base in Australia but we just can't seem to crack the U.S. market.
So the plan is to send me to America for a week or two in the new year to meet with American podcast producers. We need to get on the radar of the big players and the only real way to do this is face to face.
I haven't started making appointments yet because nothing would be flakier than making appointments and then telling them, "sorry I can't make it because I can't afford to fly." But the plan is to go to L.A. and try to meet and greet Grae Drake of 'The Popcorn Mafia' and Kevin Smith of 'The Smodcast Podcasts' then go to San Francisco to meet with Molly Wood and crew of 'Buzz Out Loud'. I would then take a tip to Petaluma and meet Leo Laporte and Tom Merritt and the rest of the TWiT crew. After the west coast I would head to New York to try and meet Natali Del Conte with stop offs in Utah to meet Scott Johnson of Frog Pants Studio, Kentucky to meet 'The Movie Fan House' guys, Connecticut to meet 'The Reel Junkies' boys.
In the best possible world, I will be able to do all of this. I know that not all of them will want to meet with me, but I will try to see them all if I can. I plan to live blog the whole trip and put daily video logs up on YouTube. I will also shoot a lot of video for various specials when I get back.
Ideally I'd like to go in January or February 2011 to kick off the new year. So that is the plan. However, none of this is possible at this time as I can't afford the tour.
This is where you all come in. If you look to the sidebar, you will notice we have a special donations box set up. We are looking for donations of any amount to help make this tour a reality. I don't know if this is a pipe dream or a realistic goal at this moment but I would love for this to happen. I hate the scrounging for donations thing, but this is pretty important and I think it will really benefit the network. I hope I don't annoy people with this, but we will be promoting this pretty heavily over the next few weeks on the shows, Twitter and here on the site.
One last thing, if any of the people I listed read this, drop a comment below to let me know if you would be interested in a meet up.