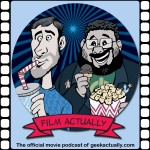 Hosts: David McVay, Josh Philpott & Katrina Smith
Welcome to the Film Actually podcast, your weekly dose of movie geek. Film Actually is the official movie podcast of geekactually.com.
This week David McVay and Josh Philpott are joined by actress, writer and comedienne Katrina Smith for a review the new film 'Red'. We also have some Entertainment Buzz including the new trailer for Zack Snyder's 'Sucker Punch' and a brand new List of Five. This week's List is five: Five Notable Spy Films.
*Update 12/11/2011 – Film Actually was a split off from the main Geek Actually show and originally maintained numbering continuity with that show. That logic no longer works as the shows have become two unique entities, so we have gone back and re-numbered the Film Actually shows to reflect their true episode number. This show is now officially episode 15 but when you listen to the show you will hear it referred to as episode 107, this is why. Sorry about any confusion or inconvenience.
Film Actually is recorded live every Saturday at approximately 1.15pm (AEST UTC +10) at geekactually.com/live
Your show notes:
Feature Film Review
'Red' directed by Robert Schwentke and written by Jon and Erich Hoeber and based on the DC comic by Warren Ellis and Cully Hamner. It stars Bruce Willis, Morgan Freeman, John Malkovich, Helen Mirren, Mary Louise Parker, Richard Dreyfuss, Brian Cox, Karl Urban and Julian McMahon.
Frank, Joe, Marvin, and Victoria used to be the CIA's top agents — but the secrets they know just made them the Agency's top targets. Now framed for assassination, they must use all of their collective cunning, experience and teamwork to stay one step ahead of their deadly pursuers and stay alive. To stop the operation, the team embarks on an impossible, cross-country mission to break into the top-secret CIA headquarters, where they will uncover one of the biggest conspiracies and cover-ups in government history. – Source Linkzmasti.com
Watch the trailer here http://www.youtube.com/watch?v=n7tvQZ1RJ2Y
Entertainment Buzz
Some more casting news on the new 'Spider-Man'
http://www.hollywoodreporter.com/blogs/heat-vision/sally-field-talks-spider-man-35864
The new 'Sucker Punch' trailer
http://www.youtube.com/watch?v=WawgG1KE6jM&feature=player_embedded
Another 'Tron Legacy' clip surfaces
http://www.youtube.com/watch?v=Ch7CGie0EQg&feature=player_embedded
John Carpenter to possibly direct 'Darkchylde'
http://www.slashfilm.com/2010/10/31/john-carpenter-direct-darkchylde-weta-test-footage/
Kevin Smith wraps 'Red State' and shows the final cut in the wrap party! Is this a first?
http://www.slashfilm.com/2010/10/30/kevin-smiths-red-state-screened-wrap-party-aiming-sundance/
Lists of Five
This week: Five notable spy films.
This episode carries an explicit tag due to infrequent coarse language.
Listen or download it here or subscribe to it on iTunes
Podcast: Play in new window | Download
Film Actually is brought to you by listeners, just like you. Thanks for your contributions. If you wish to make a contribution, go to the "Support Us" link above.
Send feedback for this show to feedback@geekactually.com or leave us a voice mail message to play on the show at (Sydney number) 02 8011 3167 (you can also send us an mp3 file if you'd prefer). If you are an iTunes user, please leave a review. Your comments (good or bad) help us improve the show.
Join us on our Facebook Fan Page: facebook.com/GeekActually
Follow David on Twitter: twitter.com/davidmcvay
Get your Geek Actually swag at cafepress.com.au/geekactually
Make sure you check out our other fine podcasts – Tech Actually and The Geek Actually After Show.
Find out more about Josh's other show and Movember go to rawDLC.com
Our show logo is by Josh Spencer over at Spencer Cartoons at http://attackninja.blogspot.com/
For information on the Unofficial Geek Actually Movie Club screening times and titles, visit our forum.