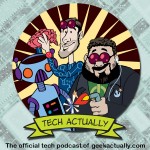 Hosts: David McVay & Josh Philpott
This is the official tech podcast of geekactually.com. The tech show by geeks for geeks and non-geeks. Accessible tech for everyone is the motto we live by. This week on Tech Actually we take a light hearted approach to the week's tech news, discuss Josh's mustache and even recommend a few apps for the iPhone and iPad. All this and a little listener feedback as well. So, sit back, grab a cup of something hot and enjoy the show.
Tech Actually is recorded live on Saturdays at 12pm (AEST UTC+10). Go to geekactually.com/live to watch it live. 
Your show notes follow:

This Week
Once again we dive into the really important issue – R+ for games
http://www.gizmodo.com.au/2010/11/lets-get-ourselves-an-r18-games-rating/
James Cameron says that glasses free 3D is not far away!
http://www.slashfilm.com/2010/11/03/glassesless-3dtv-10-years-james-cameron/
Oh crap, we are running out of Indium tin oxide!
http://www.gizmodo.com.au/2010/10/10-years-to-save-the-touchscreen/
But before we run out of Indium tin oxide, this is a cool bit of tech
http://www.gizmodo.com.au/2010/11/logitechs-solar-powered-keyboard-means-no-batteries-ever-again/
The red shirt nerd is immortalized!
http://www.news.com.au/technology/gaming/wows-newest-npc-red-shirt-guy-ian-bates-is-actually-a-regular-guy/story-e6frfrt9-1225947814869
USB Sticks in the wall?!?!
http://www.gizmodo.com.au/2010/10/theres-a-usb-stick-in-the-brick-wall/
NBN Beat up of the week. Who writes this crap?
http://www.smh.com.au/technology/technology-news/nbn-upgrade-could-cost-up-to-400-a-room-20101102-17b3g.html
and while we are on the NBN, what is this murmur of the Censorship Filter I hear? Oh, it's just Conroy beating a dead horse.
http://www.smh.com.au/technology/technology-news/net-censorship-fears-nbn-will-push-filter-plan-20101102-17b4d.html
And finally, really geeky tech stuff, The Enterprise owner's manual!
http://www.news.com.au/technology/haynes-offers-star-trek-fans-chance-to-get-inside-the-enterprise-engine-room/story-e6frfro0-1225946508166
and an apology from News.com.au
http://www.news.com.au/technology/were-sorry-for-claiming-captain-kirk-was-in-command-of-captain-picards-starship/story-e6frfro0-1225947119042
Feedback & Follow Up
David found some more info on the Virus Battery and he thought he might share.
http://web.mit.edu/newsoffice/2009/virus-battery-0402.html
Feedback
We got an email from Northy179, he had to share this fantastic geeky video.
http://www.youtube.com/watch?v=rKhbUjVyKIc
Listener Clarotungul wrote to us and shared these two great links.
The iPhone/iPad VLC Player may be yanked from the App Store
http://gizmodo.com/5678289/vlc-iphone-app-to-be-yanked-from-app-store++by-developer
And The Special Forces choose Android or iOS
http://www.wired.com/dangerroom/2010/10/special-forces-want-android-apps-for-warzone-john-maddens/
Apps of the Week
Finally, Dragon's Lair HD for iPad
http://www.gizmodo.com.au/2010/11/touch-dirk-the-daring-with-dragons-lair-hd-for-ipad/
Our pick of the week in iPhone/iPad apps
David recommends 'Points Converter' (iPhone) by Patrick Kongpinda (free). Josh recommends 'Adobe Ideas 1.0' (iPhone) by Adobe (free), 'Phoster' (iPhone/iPad) by Bucket Labs ($2.49), 'Penultimate' (iPad) by Cocoa Box Design ($4.99) and the game 'Revolt' (iPhone/iPad) by Kristopher Peterson and Jaap Kreijkamp ($2.49).
As always this episode carries an explicit tag due to some bad language.
Listen or download it here or subscribe to it on iTunes
Podcast: Play in new window | Download
Tech Actually is brought to you by listeners, just like you. Thanks for your contributions. If you wish to make a contribution, go to the "Support Us" link above.
Send feedback for this show to geektech@geekactually.com or leave us a voice mail message to play on the show at (Sydney Number) 02 8011 3167 (you can also send us an mp3 file if you'd prefer). If you are an iTunes user, please leave a review when the feed is established so we can build our audience. Your comments (good or bad) help us improve the show.
Join us on our Facebook Fan Page: facebook.com/GeekActually
Get your Geek Actually swag at cafepress.com.au/geekactually
We also want to give a big shout out to Josh Spencer over at Spencer Cartoons who is currently working on our new cover art images and they are brilliant – find out more about Josh Spencer over at http://attackninja.blogspot.com/
Make sure you check out our other fine podcasts – Film Actually and The Geek Actually After Show.