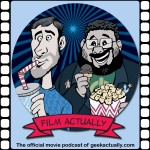 Hosts: David McVay & Josh Philpott
Welcome to the Film Actually podcast, your weekly dose of movie geek. Film Actually is the official movie podcast of geekactually.com.
This week David McVay and Josh Philpott review 'Machete' and 'The American'. We also have some Entertainment Buzz including the new trailer for 'Tron Legacy' and the sad loss of Dino DeLaurentiis. We also have a brand new List of Five. This week's List is five: Five Films That Can Can Be Considered Junk Food For The Brain.
*Update 13/11/2011 – Film Actually was a split off from the main Geek Actually show and originally maintained numbering continuity with that show. That logic no longer works as the shows have become two unique entities, so we have gone back and re-numbered the Film Actually shows to reflect their true episode number. This show is now officially episode 16 but when you listen to the show you will hear it referred to as episode 108, this is why. Sorry about any confusion or inconvenience.
Film Actually is recorded live every Saturday at approximately 1.15pm (AEST UTC +10) at geekactually.com/live
Your show notes:
Feature Film Review 1
'Machete' directed by Robert Rodriguez and Ethan Maniquis and written by Robert Rodriguez and Alvaro Rodriguez. It stars Danny Trejo, Robert DeNiro, Jeff Fahey, Jessica Alba, Steven Seagal, Michelle Rodriguez, Cheech Marin, Lindsay Lohan and introducing Don Johnson.
Three years ago in Mexico, determined Federale Machete is betrayed and set-up by his boss, resulting in his wife and child being murdered by drug kingpin Torrez. Now, in Texas, Machete resurfaces when hired to assassinate Senator McLaughlin, an extreme advocate against illegal immigration. Once again betrayed and set-up, Machete plots his revenge against the men who've wronged him with the help of resistance fighter Luz, ICE Agent Sartana, and the shotgun-toting Padre. – Source The Massie Twins on IMDB
Watch the trailer here http://www.youtube.com/watch?v=I16020r–oM
Our Verdict: Great fun exploitation film that is a complete homage to 70's exploitation films. Loses a little of it's focus in the last act but still great entertainment. If you are looking for a fine 'film', this is not it. This is an entertainment 'movie' in the truest sense.
Entertainment Buzz
Farewell Uncle Dino. Dino De Laurentiis dies at 91
http://latimesblogs.latimes.com/afterword/2010/11/italian-filmmaker-dino-de-laurentiis-dies-at-91.html
New Tron Legacy trailer
http://www.youtube.com/watch?v=d4RiUy23e9s&feature=player_embedded
The Walking Dead renewed for 13 episode second season
http://www.slashfilm.com/2010/11/08/the-walking-dead-renewed-thirteenepisode-season/
Dune loses it's director again, shades of the 1980s all over again.
http://www.slashfilm.com/2010/11/09/dune-adaptation-seeking-director/
New documentary about ILM looks like a must watch for film geeks everywhere.
http://www.youtube.com/watch?v=GmPEYssU5vQ&feature=player_embedded
Feature Film Review 2
'The American' directed by Anton Corbijn and written by Rowan Joffe and based on the novel  'A Very Private Gentleman' by Martin Booth. It stars George Clooney, Violante Placido, Johan Leysen, Paolo Bonacelli and Thekla Reuten.
After he survives an ambush beside a remote Swedish lake, an American hit man goes to Rome and contacts his control, Pavel, who sends him to an Abruzzian town with the warning, "No friends." He takes one look and goes instead to nearby Castelvecchio where he poses as a photographer and waits for his control to take care of the Swedish problem. While waiting, his control gives him a job constructing a special weapon for a Belgian assassin, he converses with the town's priest, and he spends the occasional night with Clara, a local prostitute. After the priest calls him out on his profession and the Swedes get a line on his whereabouts, is it time to get out? – jhailey on IMDB
Watch the trailer here http://www.youtube.com/watch?v=4ywmoXZwkA0
Our Verdict: One of the finest films of the year. It takes it's time to tell the story of a man who is essentially waiting for the inevitable. Clooney is in fine form and Violante Placido is radiant. Must see.
Lists of Five
This week: Five Films That Could Be Considered Junk Food For The Brain (Think exploitation films or cheesy comedies or junk action films or crappy horror films, whatever). Find the lists on our forums and feel free to add your own.
This episode carries an explicit tag due to infrequent coarse language.
Listen or download it here or subscribe to it on iTunes
Podcast: Play in new window | Download
Geek Actually is currently trying to raise money to send David to America, we call it THE DAVID STORMS AMERICA TOUR. Any amount is welcome. Donations accepted on the sidebar.
Send feedback for this show to feedback@geekactually.com or leave us a voice mail message to play on the show at (Sydney number) 02 8011 3167 or Skype ID: geekactually (you can also send us an mp3 file if you'd prefer). If you are an iTunes user, please leave a review. Your comments (good or bad) help us improve the show.
Join us on our Facebook Fan Page: facebook.com/GeekActually
Follow David on Twitter: twitter.com/davidmcvay
Get your Geek Actually swag at cafepress.com.au/geekactually
Make sure you check out our other fine podcasts – Tech Actually and The Geek Actually After Show.
Find out more about Josh's other show and Movember go to rawDLC.com
Our show logo is by Josh Spencer over at Spencer Cartoons at http://attackninja.blogspot.com/
For information on the Unofficial Geek Actually Movie Club screening times and titles, visit our forum.