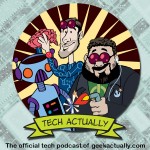 Hosts: David McVay & Josh Philpott
This is the official tech podcast of geekactually.com. The tech show by geeks for geeks and non-geeks. Accessible tech for everyone is the motto we live by. This week on Tech Actually we take a light hearted approach to the week's tech news while trying not to melt in the heat. This week we are a gadget and iOS news heavy but we still have a little time to mock Josh's mustache (remember, it's for a good cause) and even recommend a few apps for the iPhone and iPad. All this and a little listener feedback as well. So, sit back, grab a cold one and enjoy the show.
Tech Actually is recorded live on Saturdays at 12pm (AEST UTC+10). Go to geekactually.com/live to watch it live. Your show notes follow:
This Week
The Impending Robot Apocalypse News
Oh my god, we taste like bacon to robots!!! (via GeekBetty)
http://www.2oceansvibe.com/2010/11/08/wine-tasting-robot-thinks-humans-taste-like-bacon-the-end-is-nigh/
We joke about the impending robot apocalypse and then DARPA just drives it home.
http://www.geeksaresexy.net/2010/11/10/carnegie-mellon-university-to-add-autonomous-flight-to-transformer/
Tech Stuff
The new iPod Nano watch, this is hot.
http://www.gizmodo.com.au/2010/11/the-new-and-improved-ipod-nano-watch/
A duel screen tablet, why not just carry a laptop?
http://www.gizmodo.com.au/2010/11/dual-screened-kno-tablet-for-students-will-cost-us899/
But can you use it to type on the iPhone???
http://www.gizmodo.com.au/2010/11/when-a-keyboard-loves-an-iphone-dock/
This is one slick iPad case
http://www.gizmodo.com.au/2010/11/so-you-want-to-turn-your-ipad-into-a-netbook-eh/
Now here is a use for the iPhone that I bet Steve Jobs hadn't thought of.
http://www.news.com.au/technology/wee-on-your-mobile-phone-check-for-an-std/story-e6frfro0-1225950909678
Call of Duty Black Ops breaks records
http://www.news.com.au/technology/gaming/activision-claims-biggest-entertainment-launch-ever-with-360m-call-of-duty-black-ops-haul/story-e6frfrt9-1225952519430
Traction for the iPhone/iPod Touch screen…. really, why didn't anyone already think of this before?
http://www.wired.com/gadgetlab/2010/11/stick-on-buttons-turn-smartphones-into-game-pads
This looks like an awesome new network game.
http://www.wired.com/gamelife/2010/11/artemis-spaceship-bridge/
Time for DeltaKnight's history lesson of the week.
http://www.gizmodo.com.au/2010/11/hg-wells-foretold-in-1943-that-wed-get-news-from-our-phones/
Feedback
DJ Jayger sent us an awesome new 'Beat Up of the Week' theme.
Josh Spencer sent us this great video, proving that not all technology wants to kill us.
http://www.youtube.com/watch?v=VOQbVD7F1f4
iOS news and Apps of the Week
Remember Epic Citadel, the amazing demo for iPhone, here come the full game.
http://www.gizmodo.com.au/2010/11/infinity-blade-is-the-only-ipod-and-iphone-game-i-want-now/
Our pick of the week in iPhone/iPad apps
David recommends 'Reckless Racing HD' for iPad by Electronic Arts ($5.99) and 'Putt Putt Golf HD' for iPad by Jump Games ($2.49). Josh recommends 'Quota for iPad' by SouthFreo Software ($2.49) and 'Gun Bros' for iPhone by Glu (free).
As always this episode carries an explicit tag due to some bad language.
Listen or download it here or subscribe to it on iTunes
Podcast: Play in new window | Download
Geek Actually is currently trying to raise money to send David to America, we call it THE DAVID STORMS AMERICA TOUR. Any amount is welcome.
Send feedback for this show to geektech@geekactually.com or leave us a voice mail message to play on the show at (Sydney Number) 02 8011 3167 or Skype ID: geekactually (you can also send us an mp3 file if you'd prefer). If you are an iTunes user, please leave a review when the feed is established so we can build our audience. Your comments (good or bad) help us improve the show.
Join us on our Facebook Fan Page: facebook.com/GeekActually
Get your Geek Actually swag at cafepress.com.au/geekactually
Find out more about Josh's other show and Movember go to rawDLC.com
We also want to give a big shout out to Josh Spencer over at Spencer Cartoons who is currently working on our new cover art images and they are brilliant – find out more about Josh Spencer over at http://attackninja.blogspot.com/
Make sure you check out our other fine podcasts – Film Actually and The Geek Actually After Show.