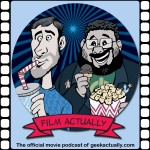 Hosts: David McVay, Josh Philpott & Celine Roberts
Welcome to the Film Actually podcast, your weekly dose of movie geek. Film Actually is the official movie podcast of geekactually.com.
This week David McVay and Josh Philpott are joined by Celine Roberts to try and review the un-reviewable, half a movie! Yes, that's right we are taking on 'Harry Potter and the Deathly Hallows Part 1'. We also have a few trailers for you and a brand new, listener requested Lists of Five – Five Films That Made You Cry. So sit back, grab a nice cup of something and enjoy.
*Update 13/11/2011 – Film Actually was a split off from the main Geek Actually show and originally maintained numbering continuity with that show. That logic no longer works as the shows have become two unique entities, so we have gone back and re-numbered the Film Actually shows to reflect their true episode number. This show is now officially episode 17 but when you listen to the show you will hear it referred to as episode 109, this is why. Sorry about any confusion or inconvenience.
Film Actually is recorded live every Saturday. Go to geekactually.com/live for the schedule and to watch it
Your show notes:
After months of talking and waiting, here it is The Green Lantern trailer
http://www.youtube.com/watch?v=8PAm9FTZJrw&feature=player_embedded
Feature Film Review
'Harry Potter and the Deathly Hallows Part 1' directed by David Yates and written by Steve Kloves based on the book by J. K. Rowling. It stars Daniel Radcliffe, Emma Watson, Rupert Grint, Ralph Fiennes, Bill Nighy, Alan Rickman, Helena Bonham Carter, Jason Isaacs, Julie Walters and just about every classically trained actor in the UK.
Harry Potter's 7th and final adventure told in two parts. Harry, Ron and Hermione race against time to finish Dumbledore's work and find the Horcruxes to destroy Voldemort. However, Voldemort's power is growing stronger. He now has control over the Ministry of Magic and Hogwarts. Harry and his friends are no longer supported by the professors and little hope remains for the trio, and the rest of the Wizarding World as Voldemort's darkness gains power.
Watch the trailer here http://www.youtube.com/watch?v=YzfEH0UPEBo
Our Verdict: Very mixed. David thought that it really is impossible to fully review a film that is only half there but enjoyed what he has seen so far. Josh and Celine didn't enjoy the experience for many reasons and suggest that if you have to watch it, wait until part 2 comes out and watch the whole film. We all reserve the right to change our minds on this film once we have seen the whole film.
Entertainment Buzz
The new, Darren Aronofsky directed Wolverine movie gets a title.
http://www.hitfix.com/blogs/motion-captured/posts/darren-aronofsky-confirms-a-new-title-for-wolverine-2
New Tron Legacy clip – Sirens dress sam.
http://www.youtube.com/watch?v=xHL7A3RgPpQ
Battlestar Galactica's David Eick and Guillermo del Toro are behind the new TV Hulk!
http://www.deadline.com/2010/11/guillermo-del-toro-and-david-eick-to-create-new-hulk-television-series-for-abc/
The Cowboys & Aliens trailer, has Jon Favreau got another hit on his hands?
http://www.slashfilm.com/movie-trailer-cowboys-aliens
Lists of Five
This week we have a listener requested list, here is the email he sent us:
Hi Dave,
I'm just finishing watching Mr Hollands Opus and since this is one of the movies that always makes me cry at the end, I was thinking it might make a good list of 5 movies that make you cry.
Regards
DeltaKnight
So our list this week is: Five Films That Make Us Cry. You can find our lists in the forum.
This episode carries an explicit tag due to infrequent coarse language.
Listen or download it here or subscribe to it on iTunes
Podcast: Play in new window | Download
Geek Actually is currently trying to raise money to send David to America, we call it THE DAVID STORMS AMERICA TOUR. Any amount is welcome. Donations accepted on the sidebar.
Send feedback for this show to feedback@geekactually.com or leave us a voice mail message to play on the show at (Sydney number) 02 8011 3167 or Skype ID: geekactually (you can also send us an mp3 file if you'd prefer). If you are an iTunes user, please leave a review. Your comments (good or bad) help us improve the show.
Join us on our Facebook Fan Page: facebook.com/GeekActually
Follow David on Twitter: twitter.com/davidmcvay
Get your Geek Actually swag at cafepress.com.au/geekactually
Make sure you check out our other fine podcasts – Tech Actually and The Geek Actually After Show.
Find out more about Josh's other show, DLC Live, and Movember go to rawDLC.com
Our show logo is by Josh Spencer over at Spencer Cartoons at http://attackninja.blogspot.com/
For information on the Unofficial Geek Actually Movie Club screening times and titles, visit our forum.