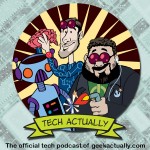 Hosts: David McVay & Josh Philpott
This is the official tech podcast of geekactually.com. The tech show by geeks for geeks and non-geeks. Accessible tech for everyone is the motto we live by. Tech Actually continues to take a light hearted look at the week's tech news, this week we have robot snakes, android actresses, Nano watches, more on the R18+ rating for games and we even recommend a few apps for the iPhone and iPad. All this and a little listener feedback as well. So, sit back, grab a cold one and enjoy the show.
Tech Actually is recorded live on Saturdays. Go to geekactually.com/live for times and to watch it live.
Your show notes follow:

This Week:
in 'The Impending Robot Apocalypse' news
Remember the creepy Robot Snake, let's make it scarier!
http://dvice.com/archives/2010/11/trying-to-kill.php
A robot actress takes to the stage, good lord!
http://www.engadget.com/2010/11/12/geminoid-f-takes-the-stage-for-japanese-play/
I think artist Joshua Hoffine has kinda nailed it.
http://www.geekologie.com/2010/11/a_very_accurate_vision_of_the.php
The 'Real' News
The NBN under threat again.
http://www.smh.com.au/technology/technology-news/threat-to-future-of-internet-network-20101115-17uf4.html and
http://www.smh.com.au/technology/technology-news/pressure-on-gillard-to-table-business-case-for-broadband-20101116-17vz5.html
The Internet Censorship Filter just won't die!
http://www.itnews.com.au/News/238841,mandatory-isp-filtering-stalled-until-mid-2013.aspx
Even Thailand, a user of such a filter admits it doesn't work. Die Filter Die!
http://www.gizmodo.com.au/2010/11/thailands-it-minister-admits-blacklists-dont-work/
CERN uses the LHC to trap Anti-Matter – Warp Factor 1 Mr. Sulu!
http://www.news.com.au/technology/sci-tech/large-hadron-collider-traps-antimatter/story-fn5fsgyc-1225956290864 and http://www.gizmodo.com.au/2010/11/antimatter-trapped-for-the-first-time/
Facebook rolls out a new emailing system that isn't email – huh!?!?
http://www.news.com.au/technology/its-not-email-says-mark-zuckerberg-as-facebook-rolls-out-its-gmail-killer/story-e6frfro0-1225954151207
The man who predicted the end of MySpace now says Facebook only has 5 years left.
http://www.news.com.au/technology/jeffrey-cole-says-facebooks-only-got-five-years-left/story-e6frfro0-1225955022297
HP launches iPad killer that has sold out due to extraordinary demand…or has it?
http://www.geeksaresexy.net/2010/11/15/hps-ipad-killer-both-a-flop-and-a-sellout/
Kotaku goes on Sunrise to debate the R18+ rating – Watch the whole video here
http://www.gizmodo.com.au/2010/11/kotaku-takes-the-r18-gaming-classification-debate-to-sunrise/
The Pope isn't a big fan of the internet – no surprise.
http://www.news.com.au/technology/the-pope-isnt-a-fan-of-the-internet-make-a-note/story-e6frfro0-1225953656066
Gadgets!
More Nano watches – so cool
http://www.gizmodo.com.au/2010/11/the-ipod-nano-watches-to-rule-them-all-trust-me-here/
Or a Slap bracelet maybe.
http://www.gizmodo.com.au/2010/11/griffins-ipod-nano-slap-bracelet-has-the-early-90s-confused/
Wireless Shuffle headphones – genius!
http://www.gizmodo.com.au/2010/11/elecom-ipod-shuffle-headphones-pure-wireless/
Don't try this with an iPhone 4
http://www.gizmodo.com.au/2010/11/dont-try-to-do-this-with-your-iphone-4/
A Little Piece of History
Following up from last week's discussion, here are the details on the construction of Charles Babbage's Analytical Engine
http://www.bbc.co.uk/news/technology-11530905 and http://plan28.org/
Feedback
Northy179 dropped us an email to tell us about the iPad RSS reader 'Pulse News Reader' which is available in the App Store.
iOS news and Apps of the Week
Mindcraft App of iOS devices disappears
http://www.gizmodo.com.au/2010/11/minecraft-for-iphone-briefly-appears-then-disappears-from-itunes/
Want to stay in control of notifications? Try Boxcar
http://www.gizmodo.com.au/2010/11/boxcar-4-0-is-the-indispensable-iphone-notifications-app/
Our picks of the week in iPhone/iPad apps
Josh recommended 'AudioNote' for iPhone/iPad by Luminant ($5.99), 'Radiant' for iPhone and 'Radiant HD' for iPad by Haxage.net ($1.19 each), 'Super Laser' for iPhone by EpicForce Entertainment ($1.19) and 'Rage' for iPhone/iPad by id Software ($1.19). David recommended 'Virtual City HD' for iPad by G5 Entertainment ($12.99).
As always this episode carries an explicit tag due to some bad language.
Listen or download it here or subscribe to it on iTunes
Podcast: Play in new window | Download
Geek Actually is currently trying to raise money to send David to America, we call it THE DAVID STORMS AMERICA TOUR. Any amount is welcome.
Send feedback for this show to geektech@geekactually.com or leave us a voice mail message to play on the show at (Sydney Number) 02 8011 3167 or Skype ID: geekactually (you can also send us an mp3 file if you'd prefer). If you are an iTunes user, please leave a review when the feed is established so we can build our audience. Your comments (good or bad) help us improve the show.
Join us on our Facebook Fan Page: facebook.com/GeekActually
Get your Geek Actually swag at cafepress.com.au/geekactually
Find out more about Josh's other show DLC Live and Movember go to rawDLC.com
Cover Art Credit: Josh Spencer (find out more about Josh Spencer over at http://attackninja.blogspot.com/)
Tech Actually Theme by: Grant Noy
Make sure you check out our other fine podcasts – Film Actually and The Geek Actually After Show.