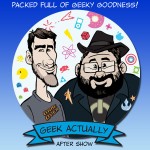 Hosted by: David McVay, Josh Philpott & Celine Roberts
Welcome to the Geek Actually After Show. This week on the un-stuctured, no rules, geeky after show podcast that we call Geek Actually we watch mobile phones cook, observe obsessive fans and view crazy Canadians who eat the most absurd stuff. That is what what you get when you get a few geeks together after we finish recording the two main shows, Tech Actually and Film Actually. We run through DeltaKnight's geekiest links of the week. Basically we leave the microphones on and record whatever we feel like talking about. This show gives us a chance to talk about those things that didn't fit into the format of the main shows. It's all in good geeky fun – Think of it as your 'Week in Geek'.
The Geek Actually After Show is recorded live on Saturdays around 2.30pm (AEST UTC+10). Go to geekactually.com/live to watch it live.
You show notes follow:

This week:
Remember the R2D2 Swimsuit? Here's one spotted in the wild.
http://www.geekologie.com/2010/11/yow_yow_r2d2_bathing_suit_spot.php
So, you think you are a geek, check this little obssessive out.
http://www.geekologie.com/2010/11/gw_casts_get_a_life_it_isnt_su.php
and just to be fair, here is the female version.
http://www.geekologie.com/2010/11/bwahahaha_worlds_biggest_twili.php
Let's protest against poor conditions using our iPad protest signs – WTF!
http://www.gizmodo.com.au/2010/11/this-ipad-protester-cant-have-it-that-bad/
Who actually watches Star Wars and Star Trek? Yahoo Clue knows.
http://www.geeksaresexy.net/2010/11/17/yahoo-gives-us-a-clue-about-star-wars-and-star-trek/
Turn your room into your computer case, oh yeah!
http://www.gizmodo.com.au/2010/11/when-your-bedroom-becomes-your-pc-its-time-to-get-help/
The RedBand trailer for Your Highness – WTF!!!
http://www.youtube.com/watch?v=beReZWkx7T0
Crazy Stuff
This is so cool, the floppy disk USB drive DIY project.
http://www.gizmodo.com.au/2010/11/3-5-floppy-disk-revived-as-functional-diy-usb-drive-project/
This man can literally see backwards
http://www.gizmodo.com.au/2010/11/professor-surgically-implanting-camera-in-the-back-of-his-head/
The mobile phone cookout! – Toasty!
http://www.geekologie.com/2010/11/can_you_heat_me_now_cell_phone.php
One last Halloween thing for the year.
http://www.geeksaresexy.net/2010/11/15/computer-scare-prank-goes-wrong-video/
and the now, Delta's Weird Geek Food!
More from the Canadians
http://www.geeksaresexy.net/2010/11/16/epic-meal-time-girl-eats-massive-meat-log-safe-for-work/
As always this episode carries an explicit tag due to some bad language.
Listen or download it here or subscribe to it on iTunes
Podcast: Play in new window | Download
Help Support The David Storms America Tour – check the donations link on the sidebar.
If you have any comments about the episode or really geeky links, please leave them in the comments field below or email us at feedback@geekactually.com or send us a voicemail at 02 8011 3167 (If you'd prefer to send an mp3 voice mail, mail it to the email address above and make sure the file is under 10mb.). If you are an iTunes user, please leave a review.
Join us on our Facebook Fan Page: facebook.com/GeekActually
Make sure you check out our new range of Geek Actually swag at cafepress.com.au/geekactually
Find out about Josh's moustache and listen to his other show DLC Live at RawDLC.com
Find out more about Celine Roberts at godhaspinkhair.com
Our cover art by Josh Spencer attackninja.blogspot.com
For information on the Unofficial Geek Actually Movie Club screening times and titles, visit our forum.