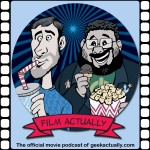 Hosts: David McVay & Josh Philpott
Welcome to the Film Actually podcast, your weekly dose of movie geek. Film Actually is the official movie podcast of geekactually.com.
This week David McVay and Josh Philpott attempt to catch up on the holiday movie season with two feature reviews, 'Monsters' and 'Fair Game'. We also have a couple of new trailers for you and a brand new, listener requested Lists of Five – Five Films You Must See. So sit back, grab a nice cup of something and enjoy.
*Update 13/11/2011 – Film Actually was a split off from the main Geek Actually show and originally maintained numbering continuity with that show. That logic no longer works as the shows have become two unique entities, so we have gone back and re-numbered the Film Actually shows to reflect their true episode number. This show is now officially episode 18 but when you listen to the show you will hear it referred to as episode 110, this is why. Sorry about any confusion or inconvenience.
Film Actually is recorded live every Saturday. Go to geekactually.com/live for the schedule and to watch it
Your show notes:
We start this week off with a little video sent in by listener GeekBetty: 'Nicolas Cage Losing His Shit'
http://www.youtube.com/watch?feature=player_embedded&v=xP1-oquwoL8
Feature Film Review 1
'Monsters' written, production designed, photographed and directed by Gareth Edwards. Oh, and he also did the special effects! It stars Whitney Able, Andrew Kaulder and Kevon Kane.
Six years after Earth has suffered an alien invasion a cynical journalist agrees to escort a shaken American tourist through an infected zone in Mexico to the safety of the US border.
Our Verdict: An impressive looking feature debut considering the budget, however pacing, acting and inane dialogue lower the film to a DVD rental only. Not terrible but not particularly good either.
Watch the trailer here http://www.youtube.com/watch?v=V_-gL3U1T5Y
Entertainment Buzz
The trailer for Duncan Jones' second film 'Source Code'
http://www.youtube.com/watch?v=Bz0xGnFKMvE&feature=player_embedded
New Batman TV series a possibility.
http://www.comicbookmovie.com/batman_movies/news/?a=25237
Lindsay Lohan out of the Linda Lovelace BioPic 'Inferno' – bummer
http://www.slashfilm.com/casting-notes-miranda-otto-joins-locke-malin-akerman-replaces-lindsay-lohan-inferno/
The new 'Green Hornet' trailer is better than the first, but I think the film is still going to suck.
http://movies.yahoo.com/movie/1808411967/video/23108213
Joss Whedon's reactions to the Buffy Reboot.
http://au.eonline.com/uberblog/watch_with_kristin/b212644_joss_whedon_reacts_buffy_movie_news_i.html
First look at Karl Urban as Judge Dredd in the new reboot.
http://www.bleedingcool.com/2010/11/19/karl-urban-is-judge-dredd-pic/
Feature Film Review 2
'Fair Game' directed by Doug Liman and written by Jez Butterworth and John-Henry Butterworth and based on the books "Fair Game" by Valerie Plame and "The Politics of Truth" by Joseph Wilson. It stars Naomi Watts and Sean Penn.
Based on the autobiography of real-life undercover CIA operative Valerie Plame, whose career was destroyed and marriage strained to its limits when her covert identity was exposed by a politically motivated press leak. As a covert officer in the CIA's Counter-Proliferation Division, Valerie leads an investigation into the existence of weapons of mass destruction in Iraq. Valerie's husband, diplomat Joe Wilson, is drawn into the investigation to substantiate an alleged sale of enriched uranium from Niger. But when the administration ignores his findings and uses the issue to support the call to war, Joe writes a New York Times editorial outlining his conclusions and ignites a firestorm of controversy.
Our Verdict: An excellent biopic that works on may levels. An excellent political film, great spy film and terrific character study. This is a must see film with two fantastic performances from the lead actors.
Watch the trailer here http://www.youtube.com/watch?v=CCuaNhY8OOM
Lists of Five
Listener Requested List this week: Five Films That You Must Watch. You can read the lists and add your own in our forum.
This episode carries an explicit tag due to infrequent coarse language.
Listen or download it here or subscribe to it on iTunes
Podcast: Play in new window | Download
Geek Actually is currently trying to raise money to send David to America, we call it THE DAVID STORMS AMERICA TOUR. Any amount is welcome. Donations accepted on the sidebar.
Send feedback for this show to feedback@geekactually.com or leave us a voice mail message to play on the show at (Sydney number) 02 8011 3167 or Skype ID: geekactually (you can also send us an mp3 file if you'd prefer). If you are an iTunes user, please leave a review. Your comments (good or bad) help us improve the show.
Join us on our Facebook Fan Page: facebook.com/GeekActually
Follow David on Twitter: twitter.com/davidmcvay
Get your Geek Actually swag at cafepress.com.au/geekactually
Make sure you check out our other fine podcasts – Tech Actually and The Geek Actually After Show.
Find out more about Josh's other show, DLC Live, and Movember go to rawDLC.com
Go check out Celine Roberts' new site godhaspinkhair.com
Our show logo is by Josh Spencer over at Spencer Cartoons at http://attackninja.blogspot.com/
For information on the Unofficial Geek Actually Movie Club screening times and titles, visit our forum.