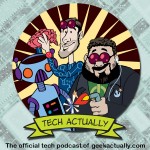 Hosts: David McVay & Josh Philpott
This is the official tech podcast of geekactually.com. The tech show by geeks for geeks and non-geeks. Accessible tech for everyone is the motto we live by. Tech Actually continues to take a light hearted look at the week's tech news, this week we have terminator chess robots, cow crap power generators, our hero Kate Lundy defending the R18+ rating for games, NBN wins and iPad projectors plus much, much more. All this and we even have time to recommend a few apps for the iPhone and iPad. So, sit back, grab a cold one and enjoy the show.
Tech Actually is recorded live on Saturdays. Go to geekactually.com/live for times and to watch it live.
Your show notes follow:

This Week:
The Impending Robot Apocalypse News
Really, don't use the word Terminator when describing smart robots!
http://www.gizmodo.com.au/2010/11/chess-terminator-robot-arm-faces-off-against-flesh-and-blood-world-champion/
The News
The new iOS 4.2 update came out on Monday, we give you our thoughts.
Are Steve Jobs and Rupert Murdoch collaborating on a new iPad newspaper?
http://www.gizmodo.com.au/2010/11/are-steve-jobs-and-rupert-murdoch-collaborating-on-an-ipad-only-newspaper/
The Key to the NBN, Telstra break up legislation is approved by the senate!
http://www.news.com.au/technology/senate-passes-legislation-to-separate-telstras-retail-and-wholesale-arms/story-e6frfro0-1225961484332
News.com.au has a great overview of the NBN for the non-technical
http://www.news.com.au/technology/all-you-need-to-know-about-the-national-broadband-network/story-e6frfro0-1225961023857
That Attorneys General meeting is getting close but don't go crazy, Kotaku is hear to help
http://www.gizmodo.com.au/2010/11/send-a-message-of-support-for-adult-games-ratings-to-your-local-ag-with-kotaku/
She's my hero, Senator Kate Lundy tables the 89,210 signature petition for the R18+ rating
http://www.kotaku.com.au/2010/11/senator-lundy-tables-record-breaking-petition-supports-r18-rating/
and her speech http://www.youtube.com/watch?v=1RMQsuoMPKc&feature=player_embedded
Facebook has trademarked the word 'Face', are you scared yet?
http://www.gizmodo.com.au/2010/11/please-dont-panic-just-because-facebook-trademarked-the-word-face/
Methane from cows is a problem, let's fix it with science.
http://www.gizmodo.com.au/2010/11/a-chinese-dairy-farm-made-the-worlds-largest-machine-for-turning-crap-into-power/
Windows is 25 and Microsoft has never been able to market stuff, here's proof.
http://www.gizmodo.com.au/2010/11/happy-25th-birthday-to-windows-1-0-the-bland-bust-that-started-it-all/
Oh my god, I see disaster written all over this, babies driving robots! Baybots!
http://blog.ncpad.org/2010/11/18/cool-hacked-wii-gadget-allows-babies-to-drive-robots/
Gadgets!
Project your iOS device – Totally Cool
http://www.gizmodo.com.au/2010/11/want-to-see-what-your-ipad-videos-look-like-projected-at-100-inches/
Or turn your tethered iPhone into a router with no Jail Breaking.
http://www.gizmodo.com.au/2010/11/turn-your-iphone-into-a-wi-fi-router-no-jailbreaking/
Is this one of the the most stupid things I have ever seen? Possibly.
http://www.geekologie.com/2010/11/finally_a_quality_keyboard_sil.php
Haven't had enough Tron yet, how about a Tron mouse.
http://www.gizmodo.com.au/2010/11/razer-tron-mouse-has-lots-of-whoooosh-potential/
Finally, here is a concept that will surely drive everyone around you insane.
http://www.yankodesign.com/2010/11/22/one-album-band-aid/
A Little Piece of History
A 45 year old working robot.
http://www.gizmodo.com.au/2010/11/robot-built-from-wwii-bomber-still-works-after-45-years/
That Apple 1 computer we told you about last week sold – for around US$200,000!!!
http://www.geeksaresexy.net/2010/11/24/apple-computer-gets-320-fold-price-rise/
Feedback
We need your feedback on a new idea. How would you feel about Tech Actually and The Geek Actually After Show merging into one show simply called Geek Actually. The new show would be all the tech from the first show mixed in with all the geek from the last show to make it your week in geek. Send your thoughts to feedback@geekactually.com. If we do this it would be in the new year.
iOS news and Apps of the Week
Apple pulls (sorry, bad choice of words) the penis enlarging app, boo!
http://krapps.com/2010/11/23/penis-enlargement-hypnotherapy-iphone-app/
Our pick of the week in iPhone/iPad apps: David recommended 'Lab Timer' for iPhone/iPad by OxOc (free) and 'Dino Cap' for iPhone/iPad by Triniti Interactive (free). Josh recommended 'Atomic Web' for iPhone/iPad by RichTech (.99c) and 'Pulse Reader' for iPad by Alphonso Labs (free).
As always this episode carries an explicit tag due to some bad language.
Listen or download it here or subscribe to it on iTunes
Podcast: Play in new window | Download
Geek Actually is currently trying to raise money to send David to America, we call it THE DAVID STORMS AMERICA TOUR. Any amount is welcome.
Send feedback for this show to geektech@geekactually.com or leave us a voice mail message to play on the show at (Sydney Number) 02 8011 3167 or Skype ID: geekactually (you can also send us an mp3 file if you'd prefer). If you are an iTunes user, please leave a review when the feed is established so we can build our audience. Your comments (good or bad) help us improve the show.
Join us on our Facebook Fan Page: facebook.com/GeekActually
Get your Geek Actually swag at cafepress.com.au/geekactually
Find out more about Josh's other show DLC Live and Movember go to rawDLC.com
Cover Art Credit: Josh Spencer (find out more about Josh Spencer over at http://attackninja.blogspot.com/)
Tech Actually Theme by: Grant Noy
Make sure you check out our other fine podcasts – Film Actually and The Geek Actually After Show.