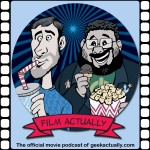 Hosts: David McVay & Josh Philpott
Welcome to the Film Actually podcast, your weekly dose of movie geek. Film Actually is the official movie podcast of geekactually.com.
This week David McVay and Josh Philpott brave another M. Night Shyamalan production, 'Devil'. We also have Robert Downey Jr.'s new Mr Peanut ad, Michael Bay's new Victoria's Secret ad and a brand new Lists of Five – Five Films in Confined Locations. So sit back, grab a nice cup of something and enjoy.
*Update 13/11/2011 – Film Actually was a split off from the main Geek Actually show and originally maintained numbering continuity with that show. That logic no longer works as the shows have become two unique entities, so we have gone back and re-numbered the Film Actually shows to reflect their true episode number. This show is now officially episode 19 but when you listen to the show you will hear it referred to as episode 111, this is why. Sorry about any confusion or inconvenience.
Film Actually is recorded live every Saturday. Go to geekactually.com/live for the schedule and to watch it
Your show notes:
Feature Film Review
'Devil' directed by John Erick Dowdle and written by Brian Nelson based on a story by M. Night Shyamalan. It stars Chris Messina, Logan Marshall-Green, Jenny O'Hara, Bojana Novakovic, Bokeem Woodbine, Geoffrey Arend, Jacob Vargas and Matt Craven.
A group of people trapped in an elevator start being killed one by one, fear and paranoia grip them. Who is the killer? Or is the devil really among them.
Watch the trailer here http://www.youtube.com/watch?v=aINOilb_Kzc
Entertainment Buzz
Irvin Kershner dies at 87
http://www.slashfilm.com/irvin-kershner-director-the-empire-strikes-died-87/
Leslie Nielsen dies at 84
http://www.slashfilm.com/leslie-nielsen-dead/
New trailer for for HBO's fantasy epic 'Game of Thrones'
http://www.youtube.com/watch?v=43LW7a_NKMk&feature=player_embedded
The Hobbit to be shot on hand crafted 3D Red Epic cameras!
http://www.engadget.com/2010/11/28/peter-jackson-nabs-thirty-red-epic-cameras-to-film-the-hobbit-t/
Marky Mark cast in Uncharted – oh well, I guess it just proves you can't make a good video game movie.
http://multiplayerblog.mtv.com/2010/11/24/mark-wahlberg-uncharted-movie-nathan-drake/
Robert Downey Jr does a Planter's commercial
http://www.youtube.com/watch?v=pBE3mby0p6M
Jeff Bridges ponders not having to work again.
http://www.dailymail.co.uk/home/moslive/article-1332695/Jeff-Bridges-TRON-Legacy-This-technology-means-Id-work-again.html
and finally, Michael Bay's new 2010 Victoria's Secret Holiday Commercial!
http://www.youtube.com/watch?v=yRyZ-W4QlmQ&feature=player_embedded
Lists of Five
This week: Five Films in Confined Locations. See the forum for the complete list.
This episode carries an explicit tag due to infrequent coarse language.
Listen or download it here or subscribe to it on iTunes
Podcast: Play in new window | Download
Geek Actually is currently trying to raise money to send David to America, we call it THE DAVID STORMS AMERICA TOUR. Any amount is welcome. Donations accepted on the sidebar.
Send feedback for this show to feedback@geekactually.com or leave us a voice mail message to play on the show at (Sydney number) 02 8011 3167 or Skype ID: geekactually (you can also send us an mp3 file if you'd prefer). If you are an iTunes user, please leave a review. Your comments (good or bad) help us improve the show.
Join us on our Facebook Fan Page: facebook.com/GeekActually
Follow David on Twitter: twitter.com/davidmcvay
Get your Geek Actually swag at cafepress.com.au/geekactually
Make sure you check out our other fine podcasts – Tech Actually and The Geek Actually After Show.
Find out more about Josh's other show, DLC Live, and Movember go to rawDLC.com
Our show logo is by Josh Spencer over at Spencer Cartoons at http://attackninja.blogspot.com/
For information on the Unofficial Geek Actually Movie Club screening times and titles, visit our forum.