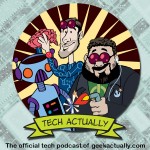 Hosts: David McVay & Josh Philpott
This is the official tech podcast of geekactually.com. The tech show by geeks for geeks and non-geeks. Accessible tech for everyone is the motto we live by. Tech Actually continues to take a light hearted look at the week's tech news, this week we have robo massagers, iPhone controlled drones, older gamers, new tablets, geeky Christmas ideas plus much, much more. All this and we even have time to recommend a few apps for the iPhone and iPad. So, sit back, grab a cold one and enjoy the show.
Tech Actually is recorded live on Saturdays. Go to geekactually.com/live for times and to watch it live.
Your show notes follow:

This Week:
The News
December 10th the Attorneys Generals meet for the fate of the R18+ rating, the government's own study helps our cause.
http://www.itwire.com/it-policy-news/regulation/43618-video-game-violence-link-inconclusive-finds-govt
Proof positive that adults game. Your never too old to game it would seem :-)
http://www.gizmodo.com.au/2010/12/some-people-really-need-to-stop-playing-games-from-time-to-time/
Love your PS3, maybe you'd like to network 1760 of them together, that's what the US Airforce did.
http://www.gizmodo.com.au/2010/12/this-stack-of-ps3s-is-the-33rd-biggest-computer-in-the-world/
Handheld devices shuffle market share.
http://www.informationweek.com/news/hardware/handheld/showArticle.jhtmlarticleID=228500080&cid=RSSfeed_IWK_All
Is there room for another hand held gaming platform? Panasonic hopes so.
http://www.bloomberg.com/news/2010-11-30/panasonic-begins-testing-of-portable-video-game-player-jungle-in-u-s-.html
The FCC's Net Neutrality announcement – hey America, welcome to our world!
http://www.gizmodo.com.au/2010/12/fccs-net-neutrality-announcement-what-it-means-for-you/
Best Wi-Fi host name ever! Wish I had thought of it :-)
http://www.gizmodo.com.au/2010/11/maybe-the-fbi-should-have-invisible-wi-fi-networks/
Cyber crime is now considered bigger than the drug trade.
http://www.google.com/hostednews/afp/article/ALeqM5ikPuK5Ri0UnDW2IXwJnA5-fDA7HA?docId=CNG.a00f68010092a06189a0276c763e93a4.131
US Homeland Security's US Immigration and Customs Enforcement is seizing domains!
http://www.businessinsider.com/homeland-security-is-seizing-internet-domains-left-and-right-2010-11
…and Pirate Bay co-founder Peter Sunde (amongst others) might have the way to stop it.
http://www.gizmodo.com.au/2010/12/bittorrent-based-domains-could-make-sites-invincible-against-seizure/
Gadgets!
Geek girls can now have NASA designed foam in there bras, it even flirts for you!
http://www.news.com.au/technology/shape-shifting-bra-made-of-nasa-space-foam-the-latest-thing-in-biocosmoceuticals/story-e6frfro0-1225961437516
Is there a new competitor in the tablet market? Meet ViewSonic's devices.
http://www.itwire.com/your-it-news/mobility/43609-viewsonic-viewtab-ipad-killer-or-pretender
A robo massager, now we're talking!
http://www.geekologie.com/2010/12/never_a_happy_ending_lil_robom.php
Sick of your bike getting stolen, here is the bike lock for you.
http://www.gizmodo.com.au/2010/11/a-bike-lock-that-can-climb-up-a-lamp-post/
Geek Christmas Shopping
Need a new amplifier for that iPhone of yours?
http://www.gizmodo.com.au/2010/12/an-iphone-4-amplifier-that-doesnt-need-any-electricity/
Gotta get a pair of Parrot Drones!
http://ardrone.parrot.com/parrot-ar-drone/en
Turn the iOS device into a pinball machine.
http://www.gizmodo.com.au/2010/11/turn-your-ipad-or-iphone-into-a-pinball-machine/
A Little Piece of History
The creator of the Neutron Bomb dies
http://www.gizmodo.com.au/2010/12/now-dead-the-disturbed-man-who-created-the-neutron-bomb/
Feedback
From Tim Hooper, he wants us to buy an aircraft carrier!
http://www.wired.com/geekdad/2010/12/the-perfect-christmas-gift-your-own-aircraft-carrier/
"its also a great solution to your aircon woes, podcast carrier style"
We need your feedback on a new idea. How would you feel about Tech Actually and The Geek Actually After Show merging into one show simply called Geek Actually. The new show would be all the tech from the first show mixed in with all the geek from the last show to make it your week in geek. Send your thoughts to feedback@geekactually.com. If we do this it would be in the new year.
iOS Apps of the Week
Our App recommendations this week: David recommended 'Pinball 3D' for iPad by OOO Gameprom ($1.19) and 'ABC iView' for iPad by Australian Broadcasting Corporation (free). Josh recommends 'Bump' for iPhone by Bump Technologies (free) and 'Notes Plus' for iPad by Viet Tran ($5.99).
As always this episode carries an explicit tag due to some bad language.
Listen or download it here or subscribe to it on iTunes
Podcast: Play in new window | Download
Geek Actually is currently trying to raise money to send David to America, we call it THE DAVID STORMS AMERICA TOUR. Any amount is welcome.
Send feedback for this show to geektech@geekactually.com or leave us a voice mail message to play on the show at (Sydney Number) 02 8011 3167 or Skype ID: geekactually (you can also send us an mp3 file if you'd prefer). If you are an iTunes user, please leave a review when the feed is established so we can build our audience. Your comments (good or bad) help us improve the show.
Join us on our Facebook Fan Page: facebook.com/GeekActually
Get your Geek Actually swag at cafepress.com.au/geekactually
Find out more about Josh's other show DLC Live and Movember go to rawDLC.com
Cover Art Credit: Josh Spencer (find out more about Josh Spencer over at http://attackninja.blogspot.com/)
Tech Actually Theme by: Grant Noy
Make sure you check out our other fine podcasts – Film Actually and The Geek Actually After Show.