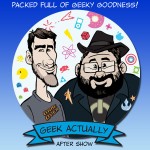 Hosted by: David McVay & Josh Philpott
Welcome to the Geek Actually After Show. This week on the un-stuctured, no rules, geeky after show podcast that we call Geek Actually we have trees in Google Earth, the latest Kinect hacks, geeky Christmas decorations, fake murder scenes, QWERTY waffles and a breakfast that will make you drunk. That is what what you get when you get a few geeks together after we finish recording the two main shows, Tech Actually and Film Actually. We run through DeltaKnight's geekiest links of the week. Basically we leave the microphones on and record whatever we feel like talking about. This show gives us a chance to talk about those things that didn't fit into the format of the main shows. It's all in good geeky fun – Think of it as your 'Week in Geek'.
The Geek Actually After Show is recorded live on Saturdays around 2.30 to 3pm (AEST UTC+10) depending on how long the main shows go. Go to geekactually.com/live to watch it live.
You show notes follow:

This week:
We can all relax, Google Earth now has trees.
http://www.gizmodo.com.au/2010/11/google-earth-now-has-80-million-beautiful-trees/
Ever wanted to wrap your TV around something? Samsung's got you covered.
http://www.gizmodo.com.au/2010/12/flexible-oled-3dtv-from-samsung-wraps-around-anything/
Kinect hacks
http://www.gizmodo.com.au/2010/11/trying-to-be-mario-using-kinect-is-just-ridiculous/
and http://www.youtube.com/watch?v=3EeJCln5KYg
Careful when picking a Twitter name.
http://www.gizmodo.com.au/2010/11/twitter-user-with-unfortunate-username-harassed-by-cricket-fans/
The Hemp house, far out man. How long until Woody Harrelson gets one?
http://www.gizmodo.com.au/2010/12/this-is-the-house-that-hemp-built/
What sort of geek decorations do you have planned this year? We want to know.
http://www.geeksaresexy.net/2010/11/30/five-ways-to-geek-up-your-holiday-decorating/
The Sydney Opera House has got competition.
http://www.gizmodo.com.au/2010/12/a-museum-with-wings/
With a V8 engine, can it still be considered a skateboard?
http://www.gizmodo.com.au/2010/12/worlds-first-v8-powered-skateboard-is-crazier-than-it-sounds/
Crazy Stuff
The Optimus Prime Ice Sculpture, so awesome!
http://www.geeksaresexy.net/2010/11/30/amazing-optimus-prime-ice-sculpture-pic/
When is a murder scene not a murder scene?
http://www.geekologie.com/2010/12/fire_leads_police_chief_to_mos.php
Animals like computers too!
http://animalslook.com/pets-using-computers/
and now our new regular section, Delta's Weird Geek Food!
Amazing fried turkey mishaps
http://www.gizmodo.com.au/2010/11/the-7-best-deep-fried-turkey-disaster-videos/
The typewriter waffle maker – cool
http://www.gizmodo.com.au/2010/11/typewriter-waffle-maker-serves-up-belgian-qwertys/
The Canadians do breakfast!!!
http://www.youtube.com/watch?v=wZDv9pgHp8Q
As always this episode carries an explicit tag due to some bad language.
Listen or download it here or subscribe to it on iTunes
Podcast: Play in new window | Download
Help Support The David Storms America Tour – check the donations link on the sidebar.
If you have any comments about the episode or really geeky links, please leave them in the comments field below or email us at feedback@geekactually.com or send us a voicemail at 02 8011 3167 or Skype ID: geekactually (If you'd prefer to send an mp3 voice mail, mail it to the email address above and make sure the file is under 10mb.). If you are an iTunes user, please leave a review.
Join us on our Facebook Fan Page: facebook.com/GeekActually
Make sure you check out our new range of Geek Actually swag at cafepress.com.au/geekactually
Find out about Josh's other site and to listen to his other show DLC Live go to RawDLC.com
Our cover art by Josh Spencer attackninja.blogspot.com
For information on the Unofficial Geek Actually Movie Club screening times and titles, visit our forum.