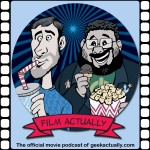 Hosts: David McVay & Josh Philpott
Welcome to the Film Actually podcast, your weekly dose of movie geek. Film Actually is the official movie podcast of geekactually.com.
This week David McVay and Josh Philpott are joined by Celine Roberts to review 'MegaMind' and give our summary of the first season of 'The Walking Dead'. We also have a couple of new trailers and a brand new Lists of Five – Five Films That Could Never Be Remade. So sit back, grab a nice cup of something because this is a long one. Enjoy.
*Update 31/07/2012 – Film Actually was a split off from the main Geek Actually show and originally maintained numbering continuity with that show. That logic no longer works as the shows have become two unique entities, so we have gone back and re-numbered the Film Actually shows to reflect their true episode number. This show is now officially episode 20 but when you listen to the show you will hear it referred to as episode 112, this is why. Sorry about any confusion or inconvenience.
Film Actually is recorded live every Saturday. Go to geekactually.com/live for the schedule and to watch it
Your show notes:
Feature Film Review
'MegaMind 3D' directed by Tom McGrath and written by Alan J. Schoolcraft and Brent Simons. It stars the voice talent of Will Ferrell, Brad Pitt, Tina Fey, Jonah Hill, David Cross, Ben Stiller and J.K. Simmons.
After super-villain Megamind kills his good-guy nemesis, Metro Man, he becomes bored since there is no one left to fight. He creates a new foe, Titan, who, instead of using his powers for good, sets out to destroy the world, positioning Megamind to save the day for the first time in his life. Written by IMDb Editors
Watch the trailer here http://www.youtube.com/watch?v=yJtot_f-snU
Our Verdict: A really well done and funny movie and well worth the 3D prices. Go see it now even if you don't have kids.
Entertainment Buzz
The new teaser trailer for 'Transformers: Dark Side of the Moon'
http://trailers.apple.com/trailers/paramount/transformersdarkofthemoon/
David O Russell not directing Uncharted next but…. He is still doing it.
http://www.slashfilm.com/david-russell-the-silver-linings-playbook-uncharted/
Spider-Man also using Red Epic cameras for 3D
http://www.gizmodo.com.au/2010/12/next-spider-man-movie-is-being-shot-with-red-epic-cameras/
Trailer for 'Real Steel'
http://www.youtube.com/watch?v=ei5l3r1dV4I&feature=player_embedded
The Walking Dead TV Series Wrap Up
Our thoughts and feelings on the first season of AMC's new horror series 'The Walking Dead'.
Watch the trailer http://www.youtube.com/watch?v=gNl0dz6OHrg&feature=related
Listen to an even more detailed discussion on 'The Talking Deadcast' podcast with Charlie and Jesse at http://moviefanhouse.com. Josh and David went onto the last episode as guests and we really dig into the first season.
Lists of Five
This week is another listener requested list: Five Films That Could Not Be Remade Today. Thanks to listener GeekBetty for the list idea.
This episode carries an explicit tag due to infrequent coarse language.
Listen or download it here or subscribe to it on iTunes
Podcast: Play in new window | Download
Geek Actually is currently trying to raise money to send David to America, we call it THE DAVID STORMS AMERICA TOUR. Any amount is welcome. Donations accepted on the sidebar.
Send feedback for this show to feedback@geekactually.com or leave us a voice mail message to play on the show at (Sydney number) 02 8011 3167 or Skype ID: geekactually (you can also send us an mp3 file if you'd prefer). If you are an iTunes user, please leave a review. Your comments (good or bad) help us improve the show.
Join us on our Facebook Fan Page: facebook.com/GeekActually
Follow David on Twitter: twitter.com/davidmcvay
Get your Geek Actually swag at cafepress.com.au/geekactually
Make sure you check out our other fine podcasts – Tech Actually and The Geek Actually After Show.
Find out more about Josh's other show, DLC Live, and Movember go to rawDLC.com
Our show logo is by Josh Spencer over at Spencer Cartoons at http://attackninja.blogspot.com/
For information on the Unofficial Geek Actually Movie Club screening times and titles, visit our forum.