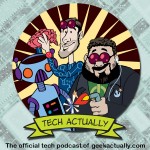 Hosts: David McVay & Josh Philpott
This is the official tech podcast of geekactually.com. The tech show by geeks for geeks and non-geeks. Accessible tech for everyone is the motto we live by. Tech Actually continues to take a light hearted look at the week's tech news, this week we autonomous predator drones, exploding droids, Low Orbit Ion Cannons, a band playing Christmas carols with nothing but iOS devices plus much, much more. All this and we even have time to talk about Epic's new iPhone and iPad game Infinity Blade. So, sit back, grab a cold one and enjoy the show.
This is the last episode of Tech Actually for the year. Tech Actually will return as part of the new combined podcast Geek Actually on January 8th.
Tech Actually is recorded live on Saturdays. Go to geekactually.com/live for times and to watch it live.
Your show notes follow:

Impending Robot Apocalypse News
Oh good, we are teaching robots how to use knives!
http://www.geekologie.com/2010/12/oh_come_on_the_knifeweilding_m.php
Thanks to a hacked Kinect, we are getting autonomous predator drones
http://www.gizmodo.com.au/2010/12/kinect-powered-quadropter-is-basically-a-flying-predator-alien/
Just how much dexterity does a quadrotor predator drone have?
http://www.gizmodo.com.au/2010/12/watch-a-murderous-quadrotor-drone-take-a-hacky-sack-break/
The News
Mobile phones can be harmful to your health, well Droids can.
http://www.geekologie.com/2010/12/this_is_not_the_droid_you_were.php
The Australian Federal government will back an R18+ rating for games, it's all up to the Attorneys Generals now.
http://www.kotaku.com.au/2010/12/ready-federal-cabinet-supports-r18-rating-for-games/
4Chan takes a Swiss Bank offline in defense of Wikileaks
http://arstechnica.com/tech-policy/news/2010/12/4chan-rushes-to-wikileaks-defense-forces-swiss-banking-site-offline.ars
With all the talk of DDOS attacks around Wikileaks, it might be time to explain how these attacks happen – Introducing LOIC.
http://www.gizmodo.com.au/2010/12/what-is-loic/
How big is the pirate software problem? Here is a small example
http://www.gizmodo.com.au/2010/12/a-single-pirated-software-license-was-used-775000-times-in-200-countries/
Far out and freaky & brilliant, the human tentacle!
http://www.geekologie.com/2010/12/dr_octopus_prosthetic_tentacle.php
Did you see the exoskeleton legs on Glee this week, well they are real!
http://www.gizmodo.com.au/2010/12/robotic-trousers-for-paralysed-patients-will-go-on-sale-next-month/
Gadgets!
First we had the Tron mouse, now we Daft Punk inspired Tron Headphones
http://www.geekologie.com/2010/12/daft_punkdisneymonstertron_hea.php
A tiny little generator.
http://www.gizmodo.com.au/2010/12/this-generator-the-size-of-a-pencil-tip-shakes-up-big-power/
Geeky Christmas
Christmas Carols iPad style – Awesome!
http://www.geekologie.com/2010/12/tis_never_the_season_church_ba.php
Feedback
Feedback from Tristan talked about the proposed and rumoured Playstation Phone. Here are the links mentioned in the email.
http://www.product-reviews.net/2010/12/02/playstation-phone-first-video-more-specs-and-game-store/
http://www.mobilemag.com/2010/12/08/playstation-button-controls-found-in-gingerbread-sdk/
iOS news and Apps of the Week
This week we aren't giving our recommendations as we really want to discuss the new game by Epic called Infinity Blade. It is available as a universal app on iTunes.
Another app that is interesting this week, OnLive games viewer. This app allows you to be a spectator to online games.
http://www.gizmodo.com.au/2010/12/onlive-viewer-for-ipad-introduces-pleasures-of-video-game-voyeurism/
As always this episode carries an explicit tag due to some bad language.
Listen or download it here or subscribe to it on iTunes
Podcast: Play in new window | Download
Geek Actually is currently trying to raise money to send David to America, we call it THE DAVID STORMS AMERICA TOUR. Any amount is welcome.
Send feedback for this show to geektech@geekactually.com or leave us a voice mail message to play on the show at (Sydney Number) 02 8011 3167 or Skype ID: geekactually (you can also send us an mp3 file if you'd prefer). If you are an iTunes user, please leave a review when the feed is established so we can build our audience. Your comments (good or bad) help us improve the show.
Join us on our Facebook Fan Page: facebook.com/GeekActually
Get your Geek Actually swag at cafepress.com.au/geekactually
Find out more about Josh's other show DLC Live and Movember go to rawDLC.com
Cover Art Credit: Josh Spencer (find out more about Josh Spencer over at http://attackninja.blogspot.com/)
Tech Actually Theme by: Grant Noy
Make sure you check out our other fine podcasts – Film Actually and The Geek Actually After Show.