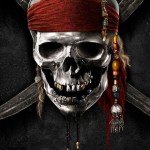 Here we go again, the pirates and Johnny Depp are back for another paycheque… sorry I meant another sequel.
'Pirates of the Caribbean: On Stranger Tides' has Captain Jack Sparrow looking for the fountain of youth. It has a new director, Rob Marshall (Chicago) and a new big bad guy in the form of Black Beard (Ian McShane), the pirate that pirates are afraid of.
It all sounds a little worn at the edges and I'm not sure if the world needed another Pirates of the Caribbean film, but here is the first trailer for the new sequel.
Okay, what did you think? Comment below.