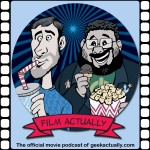 Hosts: David McVay & Josh Philpott
Welcome to the Film Actually podcast, your weekly dose of movie geek. Film Actually is the official movie podcast of geekactually.com.
This week David McVay and Josh Philpott review the most hyped film of the year 'Tron Legacy'. We also have some Entertainment Buzz including a couple of new trailers and a brand new Lists of Five – The Five Films of the Year. So sit back, grab a snack and enjoy. This is the last episode of Film Actually for 2010, the show will return on January 8th, 2011. Merry Christmas (or Happy Holidays to be politically correct) and a Happy New Year to all of our listeners.
*Update 31/07/2012 – Film Actually was a split off from the main Geek Actually show and originally maintained numbering continuity with that show. That logic no longer works as the shows have become two unique entities, so we have gone back and re-numbered the Film Actually shows to reflect their true episode number. This show is now officially episode 21 but when you listen to the show you will hear it referred to as episode 113, this is why. Sorry about any confusion or inconvenience.
Film Actually is recorded live every Saturday. Go to geekactually.com/live for the schedule and to watch it
Your show notes:
Feature Film Review
'Tron Legacy' directed by Joseph Kosinski and written by Edward Kitsis and Adam Horowitz based on a story by Edward Kitsis, Adam Horowitz, Brian Klugman and Lee Sternthal. It is based on original 'Tron' characters created by Steven Lisberger and Bonnie MacBird. It stars Jeff Bridges, Garrett Hedlund, Olivia Wilde, Bruce Boxleitner, Michael Sheen, James Frain and Beau Garrett.
Sam Flynn, a rebellious 27-year-old, is haunted by the mysterious disappearance of his father Kevin Flynn, a man once known as the world's leading video-game developer. When Sam investigates a strange signal sent from the old Flynn's Arcade – a signal that could only come from his father – he finds himself pulled into a digital world where Kevin has been trapped for 20 years. With the help of the fearless warrior Quorra, father and son embark on a life-or-death journey across a cyber universe – a universe created by Kevin himself that has become far more advanced with vehicles, weapons, landscapes and a ruthless villain who will stop at nothing to prevent their escape. Written by Walt Disney Pictures
Watch the trailer here http://trailers.apple.com/trailers/disney/tronlegacy/
Our Verdict: An ambitious, visually dazzling film that, if you can look past logic problems and plot holes you can drive a bus through, is just an amazingly fun thrill ride.
Entertainment Buzz
Blake Edwards dies at 88 from complications due to pneumonia.
http://latimesblogs.latimes.com/afterword/2010/12/director-blake-edwards-dies-at-88.html
The first official trailer for Marvel's 'Thor'
http://geekactually.com/2010/12/12/trailer-thor/
And speaking of 'Thor', the Council of Conservative Citizens are not happy.
http://www.comicbookmovie.com/fansites/rorschachsrants/news/?a=26534
The first trailer for 'Pirates of the Caribbean: On Stranger Tides'
http://geekactually.com/2010/12/14/trailer-pirates-of-the-caribbean-on-stranger-tides/
Warner Bros is taking a different and very interesting tack with piracy, good for them.
http://m.paidcontent.org/article/419-warner-bros.-targets-new-consumer-segment-pirates/
Lists of Five
This week: The Five Films of the Year. Go to forum to read the complete lists.
This episode carries an explicit tag due to infrequent coarse language.
Listen or download it here or subscribe to it on iTunes
Podcast: Play in new window | Download
Geek Actually is currently trying to raise money to send David to America, we call it THE DAVID STORMS AMERICA TOUR. Any amount is welcome. Donations accepted on the sidebar.
Send feedback for this show to feedback@geekactually.com or leave us a voice mail message to play on the show at (Sydney number) 02 8011 3167 or Skype ID: geekactually (you can also send us an mp3 file if you'd prefer). If you are an iTunes user, please leave a review. Your comments (good or bad) help us improve the show.
Join us on our Facebook Fan Page: facebook.com/GeekActually
Follow David on Twitter: twitter.com/davidmcvay
Get your Geek Actually swag at cafepress.com.au/geekactually
Make sure you check out our other fine podcasts – Tech Actually and The Geek Actually After Show.
Find out more about Josh's other show, DLC Live, and Movember go to rawDLC.com
Our show logo is by Josh Spencer over at Spencer Cartoons at http://attackninja.blogspot.com/
For information on the Unofficial Geek Actually Movie Club screening times and titles, visit our forum.