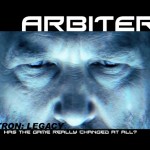 That's right boys and girls, it's finally here! We have worked hard all month and now we finally get to see our work pay off (we hope). Arbiter is a magazine for the geek in all of us. Each month me (Josh) and Calum Wilson Austin will bring you 7 pages of the month's greatest stuff; tech, movies, games, art and some ranting for good measure.
Issue #1 is up, and after much thought we have decided the best way to distribute this would be to give the first issue as a download, then if the mag takes your fancy click the button and join our mailing list. then every month we will email you when the next issue is up.
Download (3.4 MB) the issue by clicking here or the thumbnail image above.
Subscribe to Arbiter and we will notify you by Email when each issue is available
Note: Arbiter is the creation of Josh Philpott and Calum Wilson Austin. GeekActually.com is hosting the magazine but any issues about magazine content should be directed to the creators.