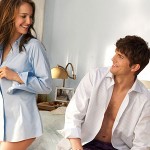 Okay before my fellow geeks jump on this and cry that this is just another chick flick and what the hell am I doing posting this trailer for it on this site, I don't mind the occasional chick flick – so there! I love film period. I watch all kinds of films from the scary bad to downright masterpiece. I get just as much from watching a drama as I do a comedy as I do watching a blockbuster action extravaganza. So deal with it. Maybe I am just an old married man who likes a little romance in his life? Anyway..
Now that that is out of the way, here is the new red band trailer for "No Stings Attached" starring Ashton Kutcher and personal favourite Natalie Portman. I like this trailer because, like "Going the Distance" starring Drew Barrymore and Justin Long, it isn't afraid to be a little raunchier than your average chick flick. It is almost like the genre is growing up. Also any chance to see Natalie Portman in her underwear is a good thing, I did say she was a personal favourite.
This trailer is coming from Cinema Blend. It is interesting to note that the original title for the film was "Fuckbuddies" but Paramount didn't like that title, I wonder why?
"No Strings Attached" is due for release in the US January 21st, 2011.
Interested at all? Comment below.