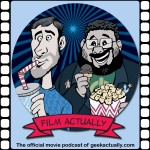 Hosts: David McVay, Josh Philpott & Celine Roberts
We are back for 2011 with more Film Actually, your weekly dose of movie geekdom. Film Actually is the official movie podcast of geekactually.com.
This week David McVay and Josh Philpott are joined by Celine Roberts for a review of one of the year's finest films, "The King's Speech". We also have some Entertainment Buzz including the new trailer for John Carpenter's return to cinema, "The Ward" and a brand new Lists of Five – Five Royal Films. So sit back, grab a snack and enjoy.
*Update 31/07/2012 – Film Actually was a split off from the main Geek Actually show and originally maintained numbering continuity with that show. That logic no longer works as the shows have become two unique entities, so we have gone back and re-numbered the Film Actually shows to reflect their true episode number. This show is now officially episode 22 but when you listen to the show you will hear it referred to as episode 114, this is why. Sorry about any confusion or inconvenience.
Film Actually is recorded live every Saturday. Go to geekactually.com/live for the schedule and to watch it
Your show notes:
Feature Film Review 1
'The King's Speech' directed by Tom Hooper and written by David Seidler. It stars Colin Firth, Geoffrey Rush, Helena Bonham Carter, Derek Jacobi, Guy Pearce, Michael Gambon, Eve Best and Timothy Spall.
Tells the story of the man who became King George VI, the father of Queen Elizabeth II. After his brother abdicates, George ('Bertie') reluctantly assumes the throne. Plagued by a dreaded stammer and considered unfit to be king, Bertie engages the help of an unorthodox speech therapist named Lionel Logue. Through a set of unexpected techniques, and as a result of an unlikely friendship, Bertie is able to find his voice and boldly lead the country through war. – Source IMDB
Our Verdict: An excellent drama that has flawless performances. Touching, funny and entertaining. This is a must see movie.
Watch the trailer here http://trailers.apple.com/trailers/weinstein/thekingsspeech/
Entertainment Buzz
Pete Postlethwaite dies at 64.
http://www.reuters.com/article/idUSTRE7021JN20110103
The Fun Machete Parody
http://geekactually.com/2011/01/06/lipton-brisk-machete-commercial-brilliant/
The Ward Trailer
http://www.youtube.com/watch?v=Mw7dvwOr8Yg&feature=player_embedded
Who knew this trailer would spark up such a passionate discussion :-)
Feature Film Review 2
'Burlesque' written & directed by Steve Antin. It stars Cher, Christina Aguilera, Stanley Tucci, Kristen Bell, Eric Dane, Peter Gallagher, Cam Gigandet and Alan Cumming.
What can we say? A small-town girl (Aguilera) ventures to Los Angeles and finds her place in a burlesque club run by a former dancer (Cher). She sings, she dances and discovers love. If this all sounds familiar, you'd be right. Burlesque offers nothing new, story wise, to this kind of film. – Source, in part, IMDB
Our Verdict: Read the synopsis again :-) No really, when they are on stage and singing, it is kind of entertaining, they should not leave the stage because the dramatic moments fall flat and it is almost painful to watch. On the plus side, great soundtrack, there is no doubt Christina Aguilera can sing.
Watch the trailer here http://trailers.apple.com/trailers/sony_pictures/burlesque/
Lists of Five
This week: Five Royal Films. See the lists on our forum.
…And finally here is a little bit of trivia I didn't know, you learn something new everyday.
http://www.gizmodo.com.au/2010/12/the-charming-story-behind-imdb/
This episode carries an explicit tag due to infrequent coarse language.
Listen or download it here or subscribe to it on iTunes
Podcast: Play in new window | Download
Geek Actually is currently trying to raise money to send David to America, we call it THE DAVID STORMS AMERICA TOUR. Any amount is welcome. Donations accepted on the sidebar.
Send feedback for this show to feedback@geekactually.com or leave us a voice mail message to play on the show at (Sydney number) 02 8011 3167 or Skype ID: geekactually (you can also send us an mp3 file if you'd prefer). If you are an iTunes user, please leave a review. Your comments (good or bad) help us improve the show.
Join us on our Facebook Fan Page: facebook.com/GeekActually
Follow David on Twitter: twitter.com/davidmcvay
Get your Geek Actually swag at cafepress.com.au/geekactually
Make sure you check out our other fine podcast Geek Actually for all your geek and tech needs.
Find out more about Josh's other show, DLC Live, and Movember go to rawDLC.com
Our show logo is by Josh Spencer over at Spencer Cartoons at http://attackninja.blogspot.com/
For information on the Unofficial Geek Actually Movie Club screening times and titles, visit our forum.