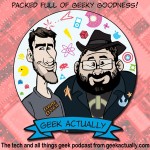 Hosted by: David McVay & Josh Philpott
A new year and a new structure, Tech Actually and the Geek Actually After Show have fused like Brundlefly and been reborn simply as the all new Geek Actually. All the Tech and geek goodness that you have come to expect from the old shows wrapped up and made easier to swallow as one simple, little, tasty podcast.
DeltaKnight continues to supply us with some of the geekiest stories on the web and Josh and David love to dig into the tech. This week on the all new Geek Actually we have real life superheroes, classification upheavals in Australia, new tablets from CES, the world's largest Lego ship, toothpaste that predicts the weather, a GPS system named Charles and so much more.
It's all in good geeky fun – Think of it as your 'Week in Geekdom'. So sit back, grab a cold one and let's geek out!
Please Note: The new Geek Actually will be coming out on the old Tech Actually feed and the Geek Actually feed on iTunes for the next few weeks so everybody knows what is going on. If you subscribed to both Tech Actually and The Geek Actually After Show, unsubscribe the Tech Actually feed or you will be getting the episode twice. To continue getting this show just subscribe to Geek Actually in iTunes by clicking here.
Geek Actually is recorded live on Saturdays around 12pm (AEDST UTC+11). Go to geekactually.com/live to watch it live.
Your show notes follow:
Geeky Tech
The Attorneys Generals can't decide so the federal government has ordered a review of the entire classification system in Australia. Is this a positive or negative step?
http://www.news.com.au/technology/gaming/federal-government-orders-review-of-classifications-amid-r18-video-game-debate/story-e6frfrt9-1225974452023
The joint government/Attorney General media release
http://www.attorneygeneral.gov.au/www/ministers/mcclelland.nsf/Page/MediaReleases_2010_FourthQuarter_21December2010-ReviewoftheNationalClassificationScheme
The UK wants to ban ALL internet porn
http://www.news.com.au/technology/all-internet-porn-will-be-blocked-to-protect-children-under-uk-government-plan/story-e6frfro0-1225973501259
Apple's Mac App Store Launched on Friday, what are our first thoughts?
http://www.apple.com/mac/app-store/
Did ASUS miss the idea of the tablet? And just how long does the battery last?
http://www.gizmodo.com.au/2011/01/asus-this-is-the-most-powerful-tablet-in-the-world/
it isn't there fault though, everyone is trying to use Win7 and it just won't work.
http://www.gizmodo.com.au/2011/01/were-not-touching-windows-7-tablets-with-a-ten-foot-stylus/
…One step closer to the impending robot apocalypse news
One step closer to those spider things in Minority Report
http://www.mydeskpets.com/skitterbot/
Geeky Stuff
WTF! Charles the GPS system that sits next to you… too creepy for me.
http://www.gizmodo.com.au/2011/01/meet-charles-the-disembodied-terror-inducing-gps-navigator-robot/
An iPad thumb stick, would this work???
http://www.gizmodo.com.au/2011/01/a-sucky-solution-to-the-problem-of-ipad-gaming/
The largest Lego ship ever built – awesome!
http://www.gizmodo.com.au/2010/10/largest-lego-ship-ever-built-is-bigger-than-three-queen-sized-beds/
Kick-Ass for reals!
http://www.geeksaresexy.net/2011/01/05/phoenix-jones-real-life-superhero-vigilante-video/
European airline Spanair just established itself as the coolest airline ever!
http://www.gizmodo.com.au/2011/01/i-wish-all-airlines-were-as-awesome-as-this-one/#more-433329
Geeky Food!
I thought we'd give EpicMealTime a week off and discuss some not quite so disturbing oral sensations.
The Toothpaste dispenser that tells you the weather
http://www.gizmodo.com.au/2011/01/prototype-toothpaste-changes-flavours-according-to-the-weather/
or how about the eatable iPhone
http://www.news.com.au/technology/smartphones/japanese-bakerys-chocolate-flavoured-icookie-a-sweet-treat-to-tweet/story-fn5sd1vk-1225977340356
Our Geek Picks of the Week
Every week Josh and I will give you our geek picks of the week, these could be anything from iPhone apps to a great sandwich recipe (more likely to be an app though).
Josh's Picks of the week – The Griffen Stylus for iOS devices and the following apps: "Death Worm" (universal app for iPad and iPhone) from Play Creek, "Game Dev Story" (for iPhone) from Kairosoft Co., Ltd, "N.O.V.A. 2" (Available on iPhone and iPad) from Gameloft, "iBlast Moki" (for iPhone) by Godzilab, "Battlefield: Bad Company 2" (for iPhone) by Electronic Arts and "Dungeon Hunter 2" (for iPhone) by Gameloft. David's Picks of the week: The new Skype Update for iPhone which adds video and the iHone game ":Shift" by Armor Games Inc.
…and finally
A final thought of the day for all geeks
http://www.geeksaresexy.net/2010/12/18/no-matter-how-old-you-are-pic/
As always this episode carries an explicit tag due to possible bad language.
Listen or download it here or subscribe to it on iTunes
Podcast: Play in new window | Download
Help Support The David Storms America Tour – check the donations link on the sidebar. Find out more about this here.
If you have any comments about the episode or really geeky links, please leave them in the comments field below or email us at feedback@geekactually.com or send us a voicemail at 02 8011 3167 or Skype ID: geekactually (If you'd prefer to send an mp3 voice mail, mail it to the email address above and make sure the file is under 10mb.). If you are an iTunes user, please leave a review.
Like to geek out at the movies? Listen to our movie show, Film Actually. You can listen to it on the site or subscribe to it on iTunes.
Join us on our Facebook Fan Page: facebook.com/GeekActually
Make sure you check out our new range of Geek Actually swag at cafepress.com.au/geekactually
Find out about Josh's other site and to listen to his other show DLC Live go to RawDLC.com
Our cover art by Josh Spencer attackninja.blogspot.com
For information on the Unofficial Geek Actually Movie Club screening times and titles, visit our forum.
(EDITED 13 January 2011 – Forgot to list the picks of the week, sorry)