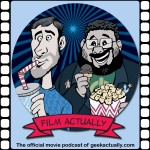 Hosts: David McVay & Josh Philpott
Film Actually is the official movie podcast of geekactually.com – This week David McVay and Josh Philpott review of Tony Scott's new film, "Unstoppable". We also have some Entertainment Buzz including the new trailer for "Battle: Los Angeles" and a brand new Lists of Five – Five Movies on Moving Vehicles. So sit back, grab a snack and enjoy.
*Update 31/07/2012 – Film Actually was a split off from the main Geek Actually show and originally maintained numbering continuity with that show. That logic no longer works as the shows have become two unique entities, so we have gone back and re-numbered the Film Actually shows to reflect their true episode number. This show is now officially episode 23 but when you listen to the show you will hear it referred to as episode 115, this is why. Sorry about any confusion or inconvenience.
Film Actually is recorded live every Saturday. Go to geekactually.com/live for the schedule and to watch it
Your show notes:
Feature Film Review
'Unstoppable' directed by Tony Scott and written by Mark Bomback. It stars Denzel Washington, Chris Pine, Rosario Dawson, Ethan Suplee and Kevin Dunn.
With an unmanned, half-mile-long freight train barreling toward a city, a veteran engineer and a young conductor race against the clock to prevent a catastrophe. – Source IMDB
Our Verdict: A silly film that feels like a cheesy 90's action movie. Could be fun on DVD with a group of friends and a few beers. Feels vaguely like a Roadrunner cartoon.
Watch the trailer here http://trailers.apple.com/trailers/fox/unstoppable/
Entertainment Buzz
Colin Farrell in Total Recall remake.
http://www.slashfilm.com/colin-farrell-confirmed-total-recall-remake/
The Hobbit casting news
http://www.slashfilm.com/christopher-lee-confirms-return-the-hobbit/
http://www.slashfilm.com/andy-serkis-officially-returning-the-hobbit/
James Cameron badmouths Battleship – right on!
http://www.slashfilm.com/james-cameron-calls-battleship-hollywood-reliance-brands-degrades-cinema/
The new Battle: Los Angeles trailer is here and it is hot!
http://movies.yahoo.com/movie/1810119633/video/23814473
The Edgar Wright Ant Man movie on the move again.
http://latimesblogs.latimes.com/movies/2011/01/ant-man-edgar-wright-cornish-marvel.html
James Bond 23 is a go project again, Sam Mendes still directing.
http://www.news.com.au/entertainment/movies/next-james-bond-movie-bond-23-officially-announced/story-e6frfmvr-1225986042646
An interesting point of view about Blu-Ray players not as good as DVD.
http://www.subtraction.com/2011/01/10/blu-ray-blues
Lists of Five
This week: Five Movies on a Moving Vehicle. Check out the complete lists here.
And finally, in a completely WTF moment. Pac-Man reality series coming soon.
http://www.slashfilm.com/pacman-reality-tv-show-works/
This episode carries an explicit tag due to infrequent coarse language.
Listen or download it here or subscribe to it on iTunes
Podcast: Play in new window | Download
Geek Actually is currently trying to raise money to send David to America, we call it THE DAVID STORMS AMERICA TOUR. Any amount is welcome. Donations accepted on the sidebar. Find out more by clicking here.
Send feedback for this show to feedback@geekactually.com or leave us a voice mail message to play on the show at (Sydney number) 02 8011 3167 or Skype ID: geekactually (you can also send us an mp3 file if you'd prefer). If you are an iTunes user, please leave a review. Your comments (good or bad) help us improve the show.
Join us on our Facebook Fan Page: facebook.com/GeekActually
Follow David on Twitter: twitter.com/davidmcvay
Get your Geek Actually swag at cafepress.com.au/geekactually
Make sure you check out our other fine podcast Geek Actually for all your geek and tech needs.
Find out more about Josh's other show, DLC Live, and Movember go to rawDLC.com
Our show logo is by Josh Spencer over at Spencer Cartoons at http://attackninja.blogspot.com/
This week's closing music from "The Hunt for Red October"
For information on the Unofficial Geek Actually Movie Club screening times and titles, visit our forum.