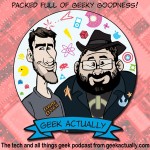 Hosted by: David McVay & Josh Philpott
A new year and a new structure, Tech Actually and the Geek Actually After Show have fused like Brundlefly and been reborn simply as the all new Geek Actually. All the Tech and geek goodness that you have come to expect from the old shows wrapped up and made easier to swallow as one simple, little, tasty podcast.
DeltaKnight continues to supply us with some of the geekiest stories on the web and Josh and David love to dig into the tech. This week on the all new Geek Actually we have wireless graphics cards, non-lethal lasers, 3D tablets, The Simpsons porn parody, Microsoft challenging Apple, EpicMealTime and so much more.
It's all in good geeky fun – Think of it as your 'Week in Geekdom'. So sit back, grab a cold one and let's geek out!
Please Note: The new Geek Actually will be coming out on the old Tech Actually feed and the Geek Actually feed on iTunes for the next few weeks so everybody knows what is going on. If you subscribed to both Tech Actually and The Geek Actually After Show, unsubscribe the Tech Actually feed or you will be getting the episode twice. To continue getting this show just subscribe to Geek Actually in iTunes by clicking here.
Geek Actually is recorded live on Saturdays around 12pm (AEDST UTC+11). Go to geekactually.com/live to watch it live.
Your show notes follow:
Geeky Tech
The Winklevosse twins appeal for more money and fall flat – this is starting to feel like sour grapes now.
http://paidcontent.org/article/419-facebook-appeal-the-winklevosses-fall-flat/
My new theory of Assange's case. (the link below is just some research)
http://www.smh.com.au/technology/technology-news/us-turns-to-twitter-as-wikileaks-chase-continues-20110109-19jy5.html
Is this new wireless technology just a little too much or the way of the future?
http://www.gizmodo.com.au/2011/01/is-this-wireless-graphics-card-stupidly-intuitive-or-just-stupid/
iOS 4.3 update to add 4 and 5 finger gestures to iPad.
http://www.gizmodo.com.au/2011/01/ios-4-3-gives-ipad-4-and-5-finger-multitouch-gesture-support/
and more http://mashable.com/2011/01/13/ios-4-3-find-my-friends/
This doesn't sound like a bad idea at all does it…note the dripping sarcasm.
http://dvice.com/archives/2011/01/contact-lenses.php
Non-lethal lasers to battle pirates on the high seas, neat.
http://www.newscientist.com/article/dn19930-new-laser-to-dazzle-pirates-on-the-high-seas.html
If Nintendo don't get their asses into gear the 3DS will be old news fast.
http://www.news.com.au/technology/tablets/tablet-computers-and-3d-collide-at-consumer-electronics-show/story-fn6vigfp-1225984786857
This amuses me, Microsoft disputes Apple's trademark for App Store as too generic.
http://mashable.com/2011/01/12/microsoft-disputes-apples-app-store-trademark/
Geek Stuff
Wii Fit told a woman she had Parkinson's disease….kinda
http://www.news.com.au/technology/gaming/wii-fit-told-me-i-had-parkinsons-says-mum/story-e6frfrt9-1225987557315
The termination notice to end all termination notice
http://www.geekologie.com/2011/01/which_one_of_you_was_this_how.php
Quite possibly the most embarrassing thing I have ever seen – The Simpsons Porn Parody
http://www.geekologie.com/2011/01/consequences_will_never_be_the.php
Drunk superconductors work better!
http://www.gizmodo.com.au/2011/01/drunk-scientists-pour-wine-on-superconductors-make-discovery/
And he almost got away with it.
http://www.itnews.com.au/News/243694,emc-engineer-steals-almost-us1-million-of-gear.aspx
9 things that make science fiction science fact
http://www.geeksaresexy.net/2011/01/11/9-developments-that-prove-we-really-are-living-in-the-future/
Geek Food!
EpicMealTime does Chilli – OH MY GOD!
http://www.youtube.com/watch?v=eah23WvLYsQ
Geek Picks of the Week
Every week Josh and I will give you our geek picks of the week, these could be anything from iPhone apps to a great sandwich recipe (more likely to be an app though).
Josh's Picks of the week – "Aralon: Sword and Shadow HD" (Universal App for both iPhone and iPad) for $12.99 from Crescent Moon Games.
As always this episode carries an explicit tag due to possible bad language.
Listen or download it here or subscribe to it on iTunes
Podcast: Play in new window | Download
Help Support The David Storms America Tour – check the donations link on the sidebar. Find out more about this here.
If you have any comments about the episode or really geeky links, please leave them in the comments field below or email us at feedback@geekactually.com or send us a voicemail at 02 8011 3167 or Skype ID: geekactually (If you'd prefer to send an mp3 voice mail, mail it to the email address above and make sure the file is under 10mb.). If you are an iTunes user, please leave a review.
Like to geek out at the movies? Listen to our movie show, Film Actually. You can listen to it on the site or subscribe to it on iTunes.
Join us on our Facebook Fan Page: facebook.com/GeekActually
Make sure you check out our new range of Geek Actually swag at cafepress.com.au/geekactually
Find out about Josh's other site and to listen to his other show DLC Live go to RawDLC.com
Our cover art by Josh Spencer attackninja.blogspot.com
For information on the Unofficial Geek Actually Movie Club screening times and titles, visit our forum.