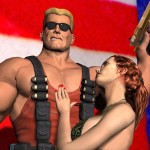 2K games has now announced that the long overdue "Duke Nukem Forever" will be in stores in the US May 3rd, 2011 and in international stores May 6th, 2011. After many promises since 1995, The Duke is finally going to get a chance to kick some alien butt again. I will be first in line. Game Informer broke the story and even game developer GearBox was surprised, here is a quote from the original article:
"Somehow the guys at Game Informer magazine discovered Duke Nukem Forever's launch date before I did," joked Randy Pitchford, president of Gearbox Software and executive producer of Duke Nukem Forever. "But I cannot imagine any better video game news source team than Game Informer to reveal the moment of truth for the most inconceivable, incorrigible and inspiring turn around story in the history of the video game industry – the coming of Duke Nukem Forever on May 3, 2011."
Has it taken too long or are you still excited about the Duke's return? Comment below.