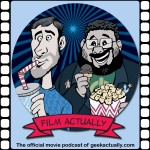 Hosts: David McVay & Josh Philpott
Film Actually is the official movie podcast of geekactually.com – This week David McVay and Josh Philpott review two new films, "The Green Hornet" and "Black Swan". We also have some Entertainment Buzz including news about Ridley Scott's "Alien" prequel and the coming of Smell-O-Rama. We also deliver a brand new Lists of Five – Five Films About Insanity. So sit back, grab a snack and enjoy.
*Update 31/07/2012 – Film Actually was a split off from the main Geek Actually show and originally maintained numbering continuity with that show. That logic no longer works as the shows have become two unique entities, so we have gone back and re-numbered the Film Actually shows to reflect their true episode number. This show is now officially episode 24 but when you listen to the show you will hear it referred to as episode 116, this is why. Sorry about any confusion or inconvenience.
Film Actually is recorded live every Saturday. Go to geekactually.com/live for the schedule and to watch it
Your show notes:
Feature Film Review 1
'The Green Hornet' directed by Michel Gondry and written by Seth Rogan and Evan Goldberg. It stars Seth Rogan, Jay Chou, Cameron Diaz, Christoph Waltz, Tom Wilkinson and Edward James Olmos.
Following the death of his father, Britt Reid, heir to his father's newspaper empire, teams up with his late dad's assistant Kato to become a masked crime fighting team. – Source IMDB (modified by us)
Our Verdict: A really ordinary film that proves that Seth Rogan is a one joke actor and his joke is wearing thin. Do not pay 3D dollars for sub-standard post-conversion 3D. This film is better suited to a night in front of the DVD player.
Watch the trailer here http://www.youtube.com/watch?v=2uDBVYKganE
Entertainment Buzz
Ridley Scott changes the "Alien" prequel into a new original production. Oh, to have such power.
http://www.deadline.com/2011/01/ridley-scott-directing-prometheus-for-fox-noomi-rapace-locked-while-angelina-jolie-and-charlize-theron-circling-2nd-female-lead/ and there's more http://www.slashfilm.com/title-ridley-scotts-prometheus-refer/
Smell-o-vision is coming
http://www.geekologie.com/2011/01/the_future_is_now_scent_machin.php
Feature Film Review 2
'Black Swan' directed by Darren Aronofsky and written by Andres Heinz and John McLaughlin. It stars Natalie Portman, Mila Kunis, Barbara Hershey, Vincent Cassel and Winona Ryder.
A ballet dancer wins the lead in "Swan Lake" and is perfect for the role of the delicate White Swan, but slowly loses her mind as she becomes more and more obsessed with trying to perfect the Black Swan side of the role. – Source IMDB (modified by us)
Our Verdict: A superb film that is part psychological drama, part horror film. Natalie Portman's Golden Globe winning performance will haunt you for days.
Watch the trailer here http://www.youtube.com/watch?v=5jaI1XOB-bs
Lists of Five
This week: Five Movies About Insanity. You can find the lists on our Facebook fan page.
This episode carries an explicit tag due to infrequent coarse language.
Listen or download it here or subscribe to it on iTunes
Podcast: Play in new window | Download
Geek Actually is currently trying to raise money to send David to America, we call it THE DAVID STORMS AMERICA TOUR. Any amount is welcome. Donations accepted on the sidebar. Find out more by clicking here.
Send feedback for this show to feedback@geekactually.com or leave us a voice mail message to play on the show at (Sydney number) 02 8011 3167 or Skype ID: geekactually (you can also send us an mp3 file if you'd prefer). If you are an iTunes user, please leave a review. Your comments (good or bad) help us improve the show.
Join us on our Facebook Fan Page: facebook.com/GeekActually
Follow David on Twitter: twitter.com/davidmcvay
Get your Geek Actually swag at cafepress.com.au/geekactually
Make sure you check out our other fine podcast Geek Actually for all your geek and tech needs.
Find out more about Josh's other show, DLC Live, and Movember go to rawDLC.com
Our show logo is by Josh Spencer over at Spencer Cartoons at http://attackninja.blogspot.com/
This week's closing music from "Black Swan"
For information on the Unofficial Geek Actually Movie Club screening times and titles, visit our forum.