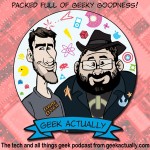 Hosted by: David McVay & Josh Philpott
A new year and a new structure, Tech Actually and the Geek Actually After Show have fused like Brundlefly and been reborn simply as the all new Geek Actually. All the Tech and geek goodness that you have come to expect from the old shows wrapped up and made easier to swallow as one simple, little, tasty podcast.
DeltaKnight continues to supply us with some of the geekiest stories on the web and Josh and David love to dig into the tech. This week on the all new Geek Actually we have Steve Jobs taking leave from Apple again, the dawn of the electric car, the next generation of CPUs, a living Pac-Man, an interview with the boys from EpicMealTime and so much more.
It's all in good geeky fun – Think of it as your 'Week in Geekdom'. So sit back, grab a cold one and let's geek out!
Please Note: The new Geek Actually will be coming out on the old Tech Actually feed and the Geek Actually feed on iTunes for the next few weeks so everybody knows what is going on. If you subscribed to both Tech Actually and The Geek Actually After Show, unsubscribe the Tech Actually feed or you will be getting the episode twice. To continue getting this show just subscribe to Geek Actually in iTunes by clicking here.
Geek Actually is recorded live on Saturdays around 12pm (AEDST UTC+11). Go to geekactually.com/live to watch it live.
Your show notes follow:
We Start off with some feedback, these are the links mentioned…
From Tim Hooper – Quadcopters build stuff http://www.engadget.com/2011/01/15/quadrocopters-learn-to-build-things-when-will-humans-learn-to-f/
From Tristan – Wireless Electricity http://witricity.com/
and if you use our voice mail line you might sound like Kai19103 who wants to tell us about Julian Assange and the new iOS update. Here are the links on the Assange details
http://www.dailymail.co.uk/news/article-1336291/Wikileaks-Julian-Assanges-2-night-stands-spark-worldwide-hunt.html and http://www.outsidethebeltway.com/julian-assange-rape-charges-and-sex-by-surprise/
Geeky Tech
The Robot Apocalypse is nigh!
Computers are getting smarter than people, concerned?
http://www.geekologie.com/2011/01/damn_you_skynet_ibms_supercomp.php
Steve Jobs takes another leave of absence
http://geekactually.com/2011/01/18/steve-jobs-is-taking-another-leave-from-apple
http://www.nytimes.com/2011/01/18/business/18views.html?_r=2&src=busln
Nasa's new super secret unmanned space plane has returned, but what is it?
http://www.wired.com/dangerroom/2010/12/air-force-on-secret-space-plane-nothing-to-see-here-move-along/
Finally, electric cars are being taken seriously
http://www.gizmodo.com.au/2011/01/the-electric-car-march-continues-into-washington-states-cascade-mountains/
Is the next generation of computing here? AMD and Intel thinks so.
http://www.itwire.com/your-it-news/home-it/44399-intel-and-amd-new-processors-are-a-comin
Scientists create a living Pac-Man – cool!
http://www.gizmodo.com.au/2011/01/scientists-create-real-life-pac-man-using-microorganisms/
And the speculation begins for the future of iPad and iPhone
http://www.engadget.com/2011/01/14/exclusive-the-future-of-the-ipad-2-iphone-5-and-apple-tv-and/
Self driving cars, kind of. Just keep telling yourself, the truck's in charge.
http://www.geeksaresexy.net/2011/01/19/new-tech-could-mean-hands-free-driving/
Geek Stuff
In the "It Serves You Right" department – a fox shoots a hunter :-)
http://www.gizmodo.com.au/2011/01/hunter-becomes-hunted-a-fox-shoots-a-man/
An for those that think you can't buy everything on Amazon…
http://www.gizmodo.com.au/2011/01/theres-a-diy-gastric-bypass-surgery-kit-for-sale-on-amazon/
Welcome to Jurassic Park!
http://www.gizmodo.com.au/2011/01/the-first-mammoth-cloning-experiment-is-officially-underway/
Just for the LOLs, man was denied renting Piranha 3D for health and safety reasons!
http://www.gizmodo.com.au/2011/01/man-refused-piranha-3d-rental-due-to-health-and-safety/
Hot Wheels video racers!!! Cool!!
http://www.geekologie.com/2011/01/hot_wheels_now_with_pov_video.php
A warning to all obsessive online gamers
http://www.gizmodo.com.au/2011/01/mom-loses-her-6-kids-over-game-addiction-filthy-home/
Is this science or just weird?
http://www.gizmodo.com.au/2011/01/people-at-the-end-of-the-alphabet-are-more-impulsive-buyers-than-those-at-the-front/
Geek Food!
Something a little different this week, ABC news got to know EpicMealTime
http://www.youtube.com/watch?v=yl0DNfRLyGg
Geek Picks of the Week
Every week Josh and I will give you our geek picks of the week, these could be anything from iPhone apps to a great sandwich recipe (more likely to be an app though).
David's Pick of the week – "Sketch Book Express" from Autodesk for Macintosh and it is free from the Mac App Store. Josh's Picks of the week – "Camtastic" (for iPhone) for $2.49 from Indeeo Inc. and "DC Universe Online" $49 on Steam. Note: I have to make a correction, during the picks I (David) said that Camera+ was developed with the help of Justine Ezarik. I should have said Lisa Bettany, sorry about the mistake.
And finally, here is a fun little video called Star Trek Acid Drive by Pajlot to finish us off.
http://www.youtube.com/watch?v=_xcZnl5kI94&feature=player_embedded
As always this episode carries an explicit tag due to possible bad language.
Listen or download it here or subscribe to it on iTunes
Podcast: Play in new window | Download
Help Support The David Storms America Tour – check the donations link on the sidebar. Find out more about this here.
If you have any comments about the episode or really geeky links, please leave them in the comments field below or email us at feedback@geekactually.com or send us a voicemail at 02 8011 3167 or Skype ID: geekactually (If you'd prefer to send an mp3 voice mail, mail it to the email address above and make sure the file is under 10mb.). If you are an iTunes user, please leave a review.
Like to geek out at the movies? Listen to our movie show, Film Actually. You can listen to it on the site or subscribe to it on iTunes.
Join us on our Facebook Fan Page: facebook.com/GeekActually
Make sure you check out our new range of Geek Actually swag at cafepress.com.au/geekactually
Find out about Josh's other site and to listen to his other show DLC Live go to RawDLC.com
Our cover art by Josh Spencer attackninja.blogspot.com
For information on the Unofficial Geek Actually Movie Club screening times and titles, visit our forum.