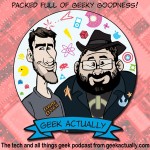 Hosted by: David McVay & Josh Philpott
A new year and a new structure, Tech Actually and the Geek Actually After Show have fused like Brundlefly and been reborn simply as the all new Geek Actually. All the Tech and geek goodness that you have come to expect from the old shows wrapped up and made easier to swallow as one simple, little, tasty podcast.
DeltaKnight continues to supply us with some of the geekiest stories on the web and Josh and David love to dig into the tech. This week on the all new Geek Actually we have Eric Schmidt seeking a career in TV, Egypt turning off the internet, meat water, the new Playstation Portable  and so much more.
It's all in good geeky fun – Think of it as your 'Week in Geekdom'. So sit back, grab a cold one and let's geek out!
Please Note: The new Geek Actually will be coming out on the old Tech Actually feed and the Geek Actually feed on iTunes for the next few weeks so everybody knows what is going on. If you subscribed to both Tech Actually and The Geek Actually After Show, unsubscribe the Tech Actually feed or you will be getting the episode twice. To continue getting this show just subscribe to Geek Actually in iTunes by clicking here.
Geek Actually is recorded live on Saturdays around 12pm (AEDST UTC+11). Go to geekactually.com/live to watch it live.
Your show notes follow:

Geeky Tech
Egypt turns off the internet
http://news.yahoo.com/s/ap/20110129/ap_on_hi_te/us_tec_egypt_protest_silencing_dissent_3
On a more serious note, we are running out of IP addresses, is there an answer?
http://www.news.com.au/technology/the-internet-has-run-out-of-ip-addresses-and-what-happens-after-that-is-anyones-guess/story-e6frfro0-1225995086627
The next generation Playstation portable announced.
http://www.news.com.au/technology/gaming/playstation-gears-up-for-mobile-game-wars/story-e6frfrt9-1225995735850
and finally, clarity about the Playstation Phone
http://www.androidapps.com/games/articles/4974-sony-s-new-portable-will-play-games-against-android-phones
Eric Schmidt steps aside as Larry Page returns to CEO position at Google
http://news.yahoo.com/s/ap/20110121/ap_on_hi_te/us_earns_google
but even better than this, Schmidt wants a TV career!
http://www.smh.com.au/technology/technology-news/i-schmidt-you-not-google-chief-eyes-tv-career-20110125-1a39z.html
The Robot Apocalypse is nigh!
Good lord why?!?!  The Germans make an indestructible Terminator hand.
http://www.geekologie.com/2011/01/terminator_hands_are_real_inde.php
This is a little scary, big brother vending machines
http://www.gizmodo.com.au/2011/01/vending-machine-scans-your-face-and-chooses-food-for-you/
How much would you pay to stay warm?
http://www.gizmodo.com.au/2011/01/they-found-a-way-to-make-our-jackets-usb-compatible/
The Secret Service upgrade to training on video games, can I play too?
http://www.gizmodo.com.au/2011/01/the-secret-service-will-train-on-fancy-video-games/
Apple now uses proprietary screws, what is their problem?
http://www.gizmodo.com.au/2011/01/apples-making-it-impossible-to-open-up-your-iphone-by-secretly-swapping-its-screws/
Is the iPad going to be the education tool of choice?
http://www.gizmodo.com.au/2011/01/why-ipads-arent-ready-for-classrooms-yet/
Quadcopters for the win!
http://www.abc.net.au/news/stories/2011/01/27/3122849.htm
The Solar Sail spacecraft, cool!
http://www.wired.com/wiredscience/2011/01/solar-sail-unfurls/
Geek Stuff
We all need one of these on occasion, the phone prison
http://www.gizmodo.com.au/2011/01/for-those-of-you-with-zero-self-control-the-phone-prison/
We will soon see Star Wars twin suns from Earth…wait a minute, what was that date?
http://www.geekologie.com/2011/01/twin_suns_visible_from_earth_b.php or not
http://www.news.com.au/technology/sci-tech/betelgeuse-not-likely-to-explode-in-2012/story-fn5fsgyc-1225992757166
Tick Tock from Peter Pan….for reals!
http://www.gizmodo.com.au/2011/01/crocodiles-tummy-rings-after-eating-mobile-phones/
Why didn't I think of that!?! So simple.
http://www.gizmodo.com.au/2011/01/why-rubber-banding-my-power-brick-is-the-smartest-thing-ever/
It's hacking time!
Install XBMC on your AppleTV 2.
http://www.gizmodo.com.au/2011/01/how-to-install-xbmc-on-your-apple-tv-2/
MIT uses a hacked Kinect to record and transmit a hologram. Help me Obi Wan.
http://www.gizmodo.com.au/2011/01/mit-hacks-kinect-to-create-real-life-holograms/
Geek Food!
Cheese made from human breast milk! I don't think so!
http://www.gizmodo.com.au/2011/01/would-you-eat-human-cheese-made-with-human-breast-milk/
Where's the beef! What is really in Taco Bell 'beef'.
http://www.gizmodo.com.au/2011/01/this-is-what-hides-in-taco-bells-beef/
Have a nice cool drink of MeatWater. Mmmmm.
http://www.gizmodo.com.au/2011/01/i-will-never-drink-any-beverage-called-meatwater/
These energy drinks really do have a kick! No wonder it is banned.
http://www.gizmodo.com.au/2011/01/two-teens-found-dead-with-empty-can-of-four-loko/
Geek Picks of the Week
Every week Josh and I will give you our geek picks of the week, these could be anything from iPhone apps to a great sandwich recipe (more likely to be an app though).
David's Pick of the week – "Animation Creator HD" from Red Software for iPad for $2.49. Josh's Pick of the week – "Dead Space" for Electronic Arts for iPhone for $8.99.
As always this episode carries an explicit tag due to possible bad language.
Listen or download it here or subscribe to it on iTunes
Podcast: Play in new window | Download
Help Support The David Storms America Tour – check the donations link on the sidebar. Find out more about this here.
If you have any comments about the episode or really geeky links, please leave them in the comments field below or email us at feedback@geekactually.com or send us a voicemail at 02 8011 3167 or Skype ID: geekactually (If you'd prefer to send an mp3 voice mail, mail it to the email address above and make sure the file is under 10mb.). If you are an iTunes user, please leave a review.
Like to geek out at the movies? Listen to our movie show, Film Actually. You can listen to it on the site or subscribe to it on iTunes.
Join us on our Facebook Fan Page: facebook.com/GeekActually
Make sure you check out our new range of Geek Actually swag at cafepress.com.au/geekactually
Find out about Josh's other site and to listen to his other show DLC Live go to RawDLC.com
Our cover art by Josh Spencer attackninja.blogspot.com