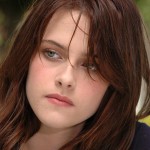 Yesterday, I reported that Henry Cavill was cast as Superman/Clark Kent in Zack Snyder's upcoming "Superman: The Man of Steel". We also talked about Jessica Biel and the other possible candidates to play Lois Lane. One of the candidates in particular, Kristen Stewart almost made me gag and then have a small stroke.
Now, if you listen to Film Actually (or The Geek Actually Podcast as it was know back then) you will know that I praised Ms. Stewart's performance in "The Runaways", so why am I so harsh now? The issue isn't with Kirsten Stewart as an actress (well kind of), it is more about personality. She suited the damaged and moody Joan Jett in "The Runaways", she is completely unsuited to play the spunky, sassy, strong and confidant Lois Lane.
To quote Futurama, "Good new everyone…"
The NY Daily News is reporting that Kristen Stewart has pulled herself out of the running for the role. Apparently it has something to do with success! She didn't know that the "Twilight" films would be so successful and all the fame is getting to her. She doesn't want to put herself in another situation where she might be really successful. According to Stewart, interviews make her small bad and her hands sweat!?!?!
Stewart wants to concentrate on small independent films. Have I said lately that I think she is a strange girl? Talk about striving for failure. Why would you want a career that is all about fame and success when you don't want those things? It is a perfect example of your goals not matching your actions.
So according to the article mentioned before, Zack Snyder really did want her, so I guess Kristen Stewart did us all a favour. Now if we can just get Jessica Beil, Dianna Agron and Malin Ackerman to step down we would be left with Rachel McAdams, a much better choice for Lois.
Source: The NY Daily News