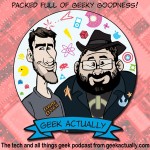 Hosted by: David McVay & Josh Philpott
A new year and a new structure, Tech Actually and the Geek Actually After Show have fused like Brundlefly and been reborn simply as the all new Geek Actually. All the Tech and geek goodness that you have come to expect from the old shows wrapped up and made easier to swallow as one simple, little, tasty podcast. DeltaKnight continues to supply us with some of the geekiest stories on the web and Josh and David love to dig into the tech.
This week on the all new Geek Actually we have Intel's Sandy Bridge woes, Android's dominance of the smart phone market, Egypt back online, airport holograms, bad knockers, jumping castles in space, hentai-don and so much more. It's all in good geeky fun – Think of it as your 'Week in Geekdom'. So sit back, grab a cold one and let's geek out!
Please Note: The new Geek Actually will be coming out on the old Tech Actually feed and the Geek Actually feed on iTunes for two more weeks so everybody knows what is going on. If you subscribed to both Tech Actually and The Geek Actually After Show, unsubscribe the Tech Actually feed or you will be getting the episode twice. To continue getting this show just subscribe to Geek Actually in iTunes by clicking here.
Geek Actually is recorded live on Saturdays around 12pm (AEDST UTC+11). Go to geekactually.com/live to watch it live.
Your show notes follow:
Feedback
Tristan responds to internet enabled appliances. here is the article about the grid.
http://en.wikipedia.org/wiki/Smart_grid
Geek Tech
Intel discovers a flaw in Sandy Bridge chipsets
http://www.zdnet.com/blog/hardware/sandy-bridge-chipset-flaw-to-cost-intel-1-billion/11157?tag=nl.e539
http://www.pcworld.com/article/218247/intel_finds_design_flaw_in_sandy_bridge_chipset.html?tk=mod_rel
and a voluntary recall is now in order
http://www.pcworld.com/businesscenter/article/218565/pc_makers_scramble_in_wake_of_intel_chip_flaw_revelation.html
Egypt is back online
http://www.gizmodo.com.au/2011/02/welcome-back-online-egypt/
Android takes the lead in Smart Phones.
http://www.tomsguide.com/us/android-iphone-wp7-blackberry-symbian,news-9932.html
Are Android tablets going to be better than iPad? Here are 5 reasons they might be.
http://www.gizmodo.com.au/2011/02/5-ways-the-android-powered-google-tablet-is-better-than-the-ipad/
or is it more of the same?
http://news.cnet.com/8301-30684_3-20030465-265.html
Sony eReader App rejected but Sony doesn't tell the whole truth. Apple wants a cut but you can use other means to sell books.
http://www.gizmodo.com.au/2011/02/did-apple-just-neuter-ipad-ebook-apps/
Free Wi-Fi on Sydney Ferries and soon for other public transport
http://www.itwire.com/your-it-news/mobility/44740-will-you-be-firesheep-hacked-on-sydney-ferries-free-wi-fi
Who needs an Apple TV, stream from your iOS device!
http://www.gizmodo.com.au/2011/02/video-stream-app-turns-your-iphone-into-a-set-top-box-for-your-tv/
The Bing Sting!
http://www.gizmodo.com.au/2011/02/google-caught-bing-stealing-its-search-results/
Geek Stuff
Wow, customer service be damned, let's replace airport staff with holograms.
http://news.cnet.com/8301-17852_3-20030102-71.html
…but considering this airport security story, maybe holograms aren't so bad.
http://www.gizmodo.com.au/2011/01/airport-security-decides-3-inch-toy-gun-is-a-weapon/
Last week in feedback we talked about "What technology gets us through the day", this week we pose the question – Do you have Tech OCD?
http://www.gizmodo.com.au/2011/02/is-tech-ocd-consuming-your-life/
I seem to have talked about this subject so much over the years so let's call this story: "when have knockers been a bad thing? part 153"
http://www.smh.com.au/technology/technology-news/public-servant-sacked-for-googling-knockers-at-home-20110202-1adue.html
The International Space Station is getting a jumping castle :-)
http://www.gizmodo.com.au/2011/02/nasa-wants-to-add-inflatable-module-to-iss/
Weird Food!
Epic Meal Time makes an Epic Burger this week but then I came across this story and felt it out weirded Epic Meal Time. Hentai-Don, yummy! – WTF!!!!
http://www.japantrends.com/hentai-don-school-girl-slipper-and-rice-dish/
Geek Picks of the Week
Every week Josh and/or I will give you our geek picks of the week, these could be anything from iPhone apps to a great sandwich recipe (more likely to be an app though).
Josh's Pick of the week – "Chopper 2" (a universal app for iPad & iPhone) from Majic Jungle Software for $1.19.
AND TO FINISH OFF, A MOMENT IN COMPUTER HISTORY…
1994, The Today Show want to know what Internet is and what is an @ symbol.
http://www.geekologie.com/2011/02/1994_today_show_asks_whats_an.php
As always this episode carries an explicit tag due to possible bad language.
Listen or download it here or subscribe to it on iTunes
Podcast: Play in new window | Download
Help Support The David Storms America Tour – check the donations link on the sidebar. Find out more about this here.
If you have any comments about the episode or really geeky links, please leave them in the comments field below or email us at feedback@geekactually.com or send us a voicemail at 02 8011 3167 or Skype ID: geekactually (If you'd prefer to send an mp3 voice mail, mail it to the email address above and make sure the file is under 10mb.). If you are an iTunes user, please leave a review.
Like to geek out at the movies? Listen to our movie show, Film Actually. You can listen to it on the site or subscribe to it on iTunes.
Join us on our Facebook Fan Page: facebook.com/GeekActually
Make sure you check out our new range of Geek Actually swag at cafepress.com.au/geekactually
The Reel Junkies podcast can be found at weekendronin.com
Find out about Josh's other site and to listen to his other show DLC Live go to RawDLC.com
Our cover art by Josh Spencer attackninja.blogspot.com and our opening theme is by Grant Noy.