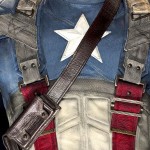 Months ago, high resolution concept art for Captain America's suit came out and everyone got really excited. The page with those shots is still hit everyday on this site. Now shots of the suit have been all over the place for weeks now but Bleeding Cool has just put up some really high resolution shots from the film and one, in particular, is a really high resolution shot of Cap's costume.
So check out the photos below, particularly that costume shot, it is a really good and functional looking suit.
See more shots at Bleeding Cool.
What do you think of the movie "Captain America: The First Avenger" so far? Excited or not? Comment below.