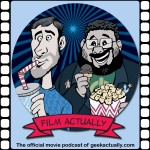 Hosts: David McVay & Josh Philpott
This week we review the new Danny Boyle film, "127 Hours" and re-live the greatness that was Schwarzenegger's "Commando". We also have some take a look at a few new trailers in our Entertainment Buzz section (including "Captain America" and "X-Men First Class"). We also deliver a brand new Lists of Five – Five Survival Films. So sit back, pop in your earbuds, grab a cold one and enjoy. Film Actually is the official movie podcast of geekactually.com.
*Update 31/07/2012 – Film Actually was a split off from the main Geek Actually show and originally maintained numbering continuity with that show. That logic no longer works as the shows have become two unique entities, so we have gone back and re-numbered the Film Actually shows to reflect their true episode number. This show is now officially episode 27 but when you listen to the show you will hear it referred to as episode 119, this is why. Sorry about any confusion or inconvenience.
Film Actually is recorded live every Saturday. Go to geekactually.com/live for the schedule and to watch it
Your show notes:
In our "What have we been watching over the last week" section we give a lot of love to Arnold Schwarzenegger's 80s classic "Commando". We are giving away a copy of the film on DVD, Give away – closes Friday 18th February 2011.
Feature Film Review
'127 Hours' directed by Danny Boyle and written by Danny Boyle and Simon Beaufoy based on the book "Between a Rock and a Hard Place" by Aron Ralston. It stars James Franco… 'nough said.
127 Hours is the true story of mountain climber Aron Ralston's remarkable adventure to save himself after a fallen boulder crashes on his arm and traps him in an isolated canyon in Utah. Over the next five days Ralston examines his life and survives the elements to finally discover he has the courage and the wherewithal to extricate himself by any means necessary, scale a 65 foot wall and hike over eight miles before he is finally rescued. Throughout his journey, Ralston recalls friends, lovers, family, and the two hikers he met before his accident. Will they be the last two people he ever had the chance to meet? – Source: Fox Searchlight Pictures
Our Verdict: Excellent film with a staggering performance by James Franco. A must see movie experience.
Watch the trailer & clip here http://trailers.apple.com/trailers/fox_searchlight/127hours/
Entertainment Buzz
Follow up on the casting rumours of last week
The Mystery female in The Avengers – Cobie Smulders as Maria Hill
http://geekactually.com/2011/02/08/is-cobie-smulders-nick-furys-sidekick-maria-hill/
And the mystery female in Superman was for the character of Ursa
http://geekactually.com/2011/02/08/is-general-zod-in-superman-the-man-of-steel/
The "X-Men First Class" Teaser Trailer
http://www.youtube.com/watch?v=UrbHykKUfTM&feature=player_embedded
Super Bowl Trailers
New TV spots were shown for "Battle Los Angeles", "Thor", "Transformers 3", "Cowboys and Aliens" and more, but two in particular showed us something new:
Captain America is revealed in a TV Spot for "Captain America: The First Avenger"
http://geekactually.com/2011/02/07/super-bowl-trailer-captain-america-the-first-avenger/
"Super 8" has more revealed in a TV Spot
http://geekactually.com/2011/02/07/super-bowl-trailer-super-8/
Lists of Five
This week our Lists of Five is in tune with our feature review: Five Survival Films.
Just a reminder, because we never like to just make things easy on ourselves, our lists are not necessarily top five lists, they are more or a less a list of film recommendations within the theme of the list. Our Lists can be found on our Facebook page.
This episode carries an explicit tag due to infrequent coarse language.
Listen or download it here or subscribe to it on iTunes
Podcast: Play in new window | Download
Geek Actually is currently trying to raise money to send David to America, we call it THE DAVID STORMS AMERICA TOUR. Any amount is welcome. Donations accepted on the sidebar. Find out more by clicking here.
Send feedback for this show to feedback@geekactually.com or leave us a voice mail message to play on the show at (Sydney number) 02 8011 3167 or Skype ID: geekactually (you can also send us an mp3 file if you'd prefer). If you are an iTunes user, please leave a review. Your comments (good or bad) help us improve the show.
Join us on our Facebook Fan Page: facebook.com/GeekActually
Follow David on Twitter: twitter.com/davidmcvay
Get your Geek Actually swag at cafepress.com.au/geekactually
Make sure you check out our other fine podcast Geek Actually for all your geek and tech needs.
David's "My Year With Movies" blog is on Tumbr
Listen to Reel Junkies podcast by going to weekendronin.com
Find out more about Josh's other show, DLC Live, and Movember go to rawDLC.com
Our show logo is by Josh Spencer over at Spencer Cartoons at http://attackninja.blogspot.com/
This week's closing music is from "Commando" by James Horner.
For information on the Unofficial Geek Actually Movie Club screening times and titles, visit our Facebook page.