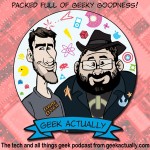 Hosted by: David McVay & Josh Philpott
This week on the all new Geek Actually we have the Catholic Churches new iPhone App, iPad 2 rumours, iOS updates and new software, Sony's tantrum, hookers on Facebook, World of Warcraft the math tutor, super weird food and so much more. It's all in good geeky fun – Think of it as your 'Week in Geekdom'. So sit back, grab a cold one and let's geek out!
A new year and a new structure, Tech Actually and the Geek Actually After Show have fused like Brundlefly and been reborn simply as the all new Geek Actually. All the Tech and geek goodness that you have come to expect from the old shows wrapped up and made easier to swallow as one simple, little, tasty podcast. DeltaKnight (AKA DAvid Murray) continues to supply us with some of the geekiest stories on the web and Josh and David love to dig into the tech.
Please Note: The new Geek Actually will only be coming out on the old Tech Actually feed and the Geek Actually feed on iTunes for one more week so everybody knows what is going on. If you subscribed to both Tech Actually and The Geek Actually After Show, unsubscribe the Tech Actually feed or you will be getting the episode twice. To continue getting this show just subscribe to Geek Actually in iTunes by clicking here.
Geek Actually is recorded live on Saturdays around 12pm (AEDST UTC+11). Go to geekactually.com/live to watch it live.
Your show notes follow:
Feedback
Claro Tungul has sent us the irony of the week link. Zuckerberg want his privacy.
http://www.tmz.com/2011/02/07/mark-zuckerberg-restraining-order-facebook-social-network-santa-clara-county-stalker-letters-priscilla-chan/
Geek Tech
The Impending Robot Apocalypse
What could possibly go wrong? Robots to get their own internet!
http://www.bbc.co.uk/news/technology-12400647
Apple News
Verizon iPhone tear down gives a hint to iPhone 5
http://www.computerworld.com/s/article/9208698/Teardown_reveals_clues_of_iPhone_5_design
iPad 2 could be launched in March
http://www.appleinsider.com/articles/11/02/05/apple_rumored_to_hold_small_event_in_march_to_usher_in_new_ipad.html
Looks like the new iPad is already being manufactured
http://online.wsj.com/article/SB10001424052748704364004576132643125168876.html
iOS
The Catholic Church is just getting lazy now – New App: Confession
http://www.theaustralian.com.au/business/media/catholic-confession-app-on-iphone-and-ipad-provides-virtual-priest/story-e6frg996-1226002713751
StarCraft rip off from Gameloft hits iTunes Feb 18th
http://www.gizmodo.com.au/2011/02/only-one-company-could-rip-off-starcraft-this-expertly/
That safe zone of retail games sales is no longer so safe, store sales down
http://www.smh.com.au/digital-life/games/blogs/screenplay/game-retail-sales-drop/20110209-1am78.html
General Tech
Motorola Xoom tablet may not kill iPad…$799 price tag and a compulsory data plan!
http://www.gizmocrunch.com/android/5133-motorola-xoom-data-plan-price-wifi
Nokia actually came up with something clever! Oh my god.
http://www.gizmodo.com.au/2011/02/dear-androidioswebos-please-stealcopy-this-idea-from-nokia/
Sony plans to abandon iTunes and open it's own store… good luck with that.
http://www.smh.com.au/digital-life/mp3s/war-looms-as-sony-hints-that-it-will-abandon-itunes-20110210-1aonn.html
Geek Stuff
Finally, something fun to do on Facebook. 25% of hookers use Facebook to get clients!
http://www.gizmodo.com.au/2011/02/facebook-now-responsible-for-25-of-hooker-hookups/
We missed this last week and I love it so.. Wow, is the porn industry getting desperate?
http://arstechnica.com/tech-policy/news/2011/02/appeals-court-free-porn-isnt-unfair-competition-to-pay-sites.ars
Parent asks Microsoft for forgiveness after her son racks up £1082 on Xbox Live
http://www.geekologie.com/2011/02/mother_asks_microsoft_for_forg.php
World of Warcraft answers a kids calculus question in support!
http://www.geekologie.com/2011/02/we_didnt_have_that_when_i_was.php
And speaking of WoW, China plans new a new WoW themepark.
http://www.geekologie.com/2011/02/a_chinese_starcraftwarcraft_am.php
The Space Shuttle may fly again! cool.
http://www.usatoday.com/tech/science/space/2011-02-05-space-commercial_N.htm
Now Copenhagen knows how to make power plants!
http://www.gizmodo.com.au/2011/02/this-power-plant-blows-os-and-doubles-as-a-ski-slope/
A 7 year old boy almost buys a real Harrier Jet! Now that's a toy!
http://timesofindia.indiatimes.com/world/rest-of-world/Boy-7-almost-buys-fighter-jet-online/articleshow/7429732.cms
A little bit of reason starts to shine through.
http://www.gizmodo.com.au/2011/02/settlement-says-you-should-be-allowed-to-bitch-about-your-job-on-facebook/
Weird Food!
How is this not animal cruelty?
http://www.geekologie.com/2011/02/the_monkey_waiter_now_with_mor.php
Yes it's back – Top Ten Grossest foods 2011 style
http://www.toptenz.net/top-ten-grossest-foods.php
I encourage you to go watch the latest EpicMealTime, you'll never eat Mexican food again.
http://www.youtube.com/watch?v=YYxO3Y-wOrM&feature=uploademail
Geek Picks of the Week
Every week Josh and/or I will give you our geek picks of the week, these could be anything from iPhone apps to a great sandwich recipe (more likely to be an app though).
Josh's Pick of the week – The game "Dungeon Raid" (for iPhone) from Fireflame Games for $1.19. David's picks of the week – The game "The Little Crane that Could" (a universal app for iPhone & iPad) from Abraham Stolk and the magazine reading app "Zinio" (a universal app for iPhone & iPad) from Zinio LLC and they are both free.
And to finish off, a couple of moments in geek history…
You think your snow is bad, in 1960 the mayor of Boston was sick of it too.
http://murmursofearth.tumblr.com/post/3105193547/the-day-the-governor-of-massachusetts-wanted-to
No wonder the Soviets didn't make it to the moon.
http://www.gizmodo.com.au/2011/02/the-soviet-plan-to-go-to-the-moon-was-stupid/
As always this episode carries an explicit tag due to possible bad language.
Listen or download it here or subscribe to it on iTunes
Podcast: Play in new window | Download
Help Support The David Storms America Tour – check the donations link on the sidebar. Find out more about this here.
If you have any comments about the episode or really geeky links, please leave them in the comments field below or email us at feedback@geekactually.com or send us a voicemail at 02 8011 3167 or Skype ID: geekactually (If you'd prefer to send an mp3 voice mail, mail it to the email address above and make sure the file is under 10mb.). If you are an iTunes user, please leave a review.
Like to geek out at the movies? Listen to our movie show, Film Actually. You can listen to it on the site or subscribe to it on iTunes.
Join us on our Facebook Fan Page: facebook.com/GeekActually
Make sure you check out our new range of Geek Actually swag at cafepress.com.au/geekactually
The Reel Junkies podcast can be found at weekendronin.com
Find out about Josh's other site and to listen to his other show DLC Live go to RawDLC.com
Our cover art by Josh Spencer attackninja.blogspot.com and our opening theme is by Grant Noy.