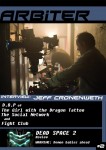 Issue two of "Arbiter", the iPad magazine for the geek in all of us, is finally here! Each month Josh Philpott and Calum Wilson Austin bring you the month's greatest stuff; tech, movies, games, art and some ranting for good measure.
This month's issue is unmissable as it's got an interview with Jeff Cronenweth (the Director of Photography of "The Social Network" and "Fight Club"), a review of "Dead Space 2", an in-depth look at motion control gaming and more.
If you like "Arbiter", make sure you subscribe because only the first 5 issues will be available openly here on Geek Actually, from issue 6 onwards only the subscribers will get the download link. Subscription is free and easy, so what are you waiting for. Join the mailing list and every month we will email you the link. And a big thanks to all of those who have already subscribed.
Download (3.2 MB) the issue by clicking here or the thumbnail image above.
Subscribe to Arbiter and we will notify you by Email when each issue is available
Note: Arbiter is the creation of Josh Philpott and Calum Wilson Austin. GeekActually.com is hosting the magazine but any issues about magazine content should be directed to the creators.