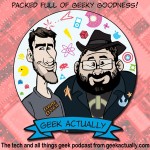 Hosted by: David McVay & Josh Philpott
This week on the all new Geek Actually we have shoddy journalism, IBM's Watson decimating Jeopardy, Tim Wu congratulates the NBN, Detroit gets a RoboCop statue, bacon flavoured toothpaste, geek fight club and rumour time: First of AMD for sale and second, Apple's iPhone Nano. So sit back, grab a cold one and let's geek out!
A new year and a new structure, Tech Actually and the Geek Actually After Show have fused like Brundlefly and been reborn simply as the all new Geek Actually. All the Tech and geek goodness that you have come to expect from the old shows wrapped up and made easier to swallow as one simple, little, tasty podcast. DeltaKnight (AKA DAvid Murray) continues to supply us with some of the geekiest stories on the web and Josh and David love to play with the tech news.
Please Note: This is the last week that the new Geek Actually will be coming out on the old Tech Actually feed. Next week it will only be on the Geek Actually feed. If you are subscribed to Tech Actually only, you need to subscribe to Geek Actually only on iTunes by clicking here.
Geek Actually is recorded live on Saturdays around 12pm (AEDST UTC+11). Go to geekactually.com/live to watch it live.
Your show notes follow:
Geek Tech
Two Stories have come up that kind of irritate me, let's take a look why.
First, Coca Cola's secret recipe may have been exposed but did Gizmodo really report this well?
http://www.gizmodo.com.au/2011/02/coca-colas-secret-recipe-finally-revealed/
Second, leave Steve Jobs alone, you know as much as I do which is absolutely nothing!
http://forkbombr.net/apple-news-open-letter/
http://www.gizmodo.com.au/2011/02/steve-jobs-has-weeks-to-live-says-the-national-enquirer/
Okay, now I have that out of my system, on with the frivolity!
Impending Robot Apocalypse News
IBM's Watson wins the three night run on Jeopardy!
http://www.geeksaresexy.net/2011/02/11/smartest-machine-on-earth-to-take-on-jeopardy-grand-champions/
http://www.gizmodo.com.au/2011/02/ibm-jeopardy-challenge-night-1-watson-ties-for-the-lead/
http://www.gizmodo.com.au/2011/02/ibm-jeopardy-challenge-night-2-watson-runs-wild/
http://www.gizmodo.com.au/2011/02/ibm-jeopardy-challenge-finale-watson-is-victorious/
General Tech
Tim Wu declares our NBN revolutionary! Who the hell is Tim Wu you might ask?
http://www.zdnet.com.au/nbn-is-visionary-congratulations-wu-339309182.htm
Oh dear, more parental concerns over kids and computers… what's new?
http://www.washingtonpost.com/wp-dyn/content/article/2011/02/07/AR2011020706073.html
Whoops! ICE wrongfully closes down 84000 websites accused of kiddie porn.
http://www.gizmodo.com.au/2011/02/feds-accidentally-shut-down-84000-websites-over-wrongful-kiddie-porn-accusation/
iPhone Nano – the rumour that just won't go away!
http://www.bloomberg.com/news/2011-02-14/report-apple-working-on-less-expensive-iphones.html
http://www.eweek.com/c/a/Mobile-and-Wireless/Apple-iPhone-Nano-Readying-to-Go-Report-520431/
AMD up for sale? That's the rumour and Dell may be looking into it. True or not, it warrants discussion.
http://www.atomicmpc.com.au/News/248289,for-sale—amd.aspx
Geek Stuff
Detroit is getting a RoboCop statue thanks to the fans
http://www.kickstarter.com/projects/imaginationstation/detroit-needs-a-statue-of-robocop
Oh My God! Nerd fight club for reals!!!
http://www.gizmodo.com.au/2011/02/theres-a-silicon-valley-fight-club-for-nerds/
When a marketing stunt goes way wrong, and this company wants to buy AMD???
http://www.gizmodo.com.au/2011/02/dell-marketing-stunt-fails-spectacularly-two-employees-arrested/
Those whacky French! How is this not some form of prostitution?
http://www.geekologie.com/2011/02/french_rentagirlfriend_website.php
Weird Food!
Bacon Toothpaste, really?
http://www.geekologie.com/2011/02/brushin_w_bacon_baconflavored.php
Geek Picks of the Week
Every week Josh and/or I will give you our geek picks of the week, these could be anything from iPhone apps to a great sandwich recipe (more likely to be an app though).
Josh's Picks of the week – The game "Starfront: Collision" (for iPhone) from Gameloft, download for free and unlock the full game for $8.99 with an in-app purchase. Josh also recommends "Springpad" (Universal app for iPad & iPhone) from Spring Partners and it is free. David's pick of the week – "ProCamera" (for iPhone 4) from daemgen.net it is $3.99.
AND TO FINISH OFF, A MOMENT IN GEEK HISTORY…
Move aside James Cameron the Nazi's made 3D movies in the 30s!
http://www.wired.com/underwire/2011/02/nazi-3d/?utm_source=feedburner&utm_medium=feed&utm_campaign=Feed:+wiredunderwire+(Blog+-+The+Underwire)
As always this episode carries an explicit tag due to possible bad language.
Listen or download it here or subscribe to it on iTunes
Podcast: Play in new window | Download
Help Support The David Storms America Tour – check the donations link on the sidebar. Find out more about this here.
If you have any comments about the episode or really geeky links, please leave them in the comments field below or email us at feedback@geekactually.com or send us a voicemail at 02 8011 3167 or Skype ID: geekactually (If you'd prefer to send an mp3 voice mail, mail it to the email address above and make sure the file is under 10mb.). If you are an iTunes user, please leave a review.
Like to geek out at the movies? Listen to our movie show, Film Actually. You can listen to it on the site or subscribe to it on iTunes.
Join us on our Facebook Fan Page: facebook.com/GeekActually
Make sure you check out our new range of Geek Actually swag at cafepress.com.au/geekactually
The Reel Junkies podcast can be found at weekendronin.com
Find out about Josh's other site and to listen to his other show DLC Live go to RawDLC.com
Our cover art by Josh Spencer attackninja.blogspot.com and our opening theme is by Grant Noy.