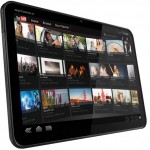 I just read an article on Mashable about Motorola's new Xoom tablet, apparently it is going to ship without Flash, Adobe's web animation tool. This is a pretty major deal considering the flack that Apple got a few years ago when it decided not to include Flash on it's mobile devices.
Android has used Flash as a selling point on it's mobile devices but to not have it on the flagship tablet is just a little strange. Now Adobe and Android say that it will be updated later in 2011 with Flash but I think that may be a little late. What if people get used to the performance of the tablet without Flash? What if they decide that they don't need it?
So, this got me thinking, I have had an iPhone since the first 3G model (iPhone 2) and I have updated through the 3Gs and now I am on the 4, I also have an iPad. I have to say that I don't really miss Flash that much. Yes, it is true that there have been occasions were a page hasn't loaded quite right or at all, but that is rare. If there is something that I really need to look at I'll generally go to my laptop anyway. The iPad is my sit on the couch and surf, check mail or play a game machine. It is also my travelling notebook replacement, what the iPad isn't is a laptop replacement and I don't believe that it was ever meant to be.
So, as a device that meant to be light weight, fast and always on, do we really want Flash, a notoriously buggy and slow program, running on our tablets? I know I don't but I would love to hear what you think. Do you miss Flash on your mobile devices or have you come to terms with it? Comment below.