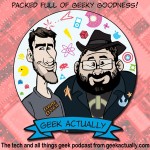 Hosted by: David McVay & Josh Philpott
This week on the all new Geek Actually we have new MacBookPros, Windows 7 and Windows Phone 7 updates, IBM's Watson's future career, iinet beats Hollywood again, disposable USB flash drives, bigger hamburgers, instant bread and geek music. So sit back, grab a cold one and let's geek out!
A new year and a new structure, Tech Actually and the Geek Actually After Show have fused like Brundlefly and been reborn simply as the all new Geek Actually. All the Tech and geek goodness that you have come to expect from the old shows wrapped up and made easier to swallow as one simple, little, tasty podcast. DeltaKnight (AKA DAvid Murray) continues to supply us with some of the geekiest stories on the web and Josh and David love to play with the tech news.
Please Note: The new Geek Actually replaces Tech Actually and the Geek Actually After Show so if you only subscribe to Tech Actually you need to go to iTunes and subscribe to Geek Actually by clicking here.
Geek Actually is recorded live on Saturdays around 12pm (AEDST UTC+11). Go to geekactually.com/live to watch it live.
Your show notes follow:
Geek Tech
Impending Robot Apocalypse News
IBM's Watson heads for a career in medicine!
http://www.boston.com/bostonglobe/editorial_opinion/oped/articles/2011/02/15/after_jeopardy/
General Tech
Apple News
The iPad 2 announced is confirmed for next week.
http://kara.allthingsd.com/20110222/exclusive-apple-ipad-2-event-set-for-march-2/
Apple is not playing fair with iTunes pricing.
http://www.smh.com.au/digital-life/digital-life-news/apple-using-market-power-to-gouge-aussie-itunes-users-20110221-1b1nq.html
iPad is not only great hardware, but competitors can't seem to match price, why?
http://www.gizmodo.com.au/2011/02/why-nobody-can-match-the-ipad's-price/
And to share our time evenly, SP1 released for Windows 7 and Windows Server 2008 R2
http://www.geeksaresexy.net/2011/02/22/download-windows-7-service-pack-1-sp1/
Windows Phone 7 update bricks the phones, well done Microsoft.
http://www.digitaltrends.com/mobile/microsoft-windows-phone-7-update-failed-for-one-in-ten/
iinet beats Hollywood again! I love this ISP.
http://www.smh.com.au/technology/technology-news/iinet-again-slays-hollywood-in-landmark-piracy-case-20110224-1b6a1.html
Whoops! Sony not pulling out of iTunes, Michael Ephraim must be a little embarrassed.
http://www.smh.com.au/digital-life/mp3s/sony-offers-unlimited-music-for-1299-a-month-as-aussie-chief-left-redfaced-20110218-1aypm.html?from=smh_sb
Technology helps beat truancy, or is this Big Brother stuff?
http://www.gizmodo.com.au/2011/02/middle-schools-are-tracking-kids-with-gps-now/
Disposable, recyclable flash drives, what a great concept!
http://www.artlebedev.com/everything/flashkus/
Geek Stuff
Sent in by listener Tristan: Paintball has certainly changed since my day :-)
http://www.coolest-gadgets.com/20110224/mega-hurtz-paintball-robot
Spanish Nun kicked out of convent for Facebooking too much!
http://www.gizmodo.com.au/2011/02/spanish-convent-gives-facebook-savvy-nun-the-boot/
I understand that the Egyptians love Facebook but this may be going too far.
http://www.geekologie.com/2011/02/congratulations_its_awebsite_e.php
Shields Up! Anti-Laser technology is here!
http://www.geekologie.com/2011/02/pewproof_scientists_develop_an.php
Vietnam is killing the geeking hours!
http://www.geek.com/articles/games/vietnam-bans-online-gaming-after-10pm-20110222/
Print Your Own Skin… wait I think this is in the wrong section :-)
http://www.gizmodo.com.au/2011/02/print-your-own-skin/
Oh the irony, the mastermind of the great firewall of China is censored!
http://www.gizmodo.com.au/2011/02/mastermind-behind-chinese-net-censorship-censored-by-china/
Weird Food!
Is that hambuger not fat enough for you? Then this is for you!
http://www.geekologie.com/2011/02/packing_on_pounds_stuffed_hamb.php
I would have expected this anywhere but France, the fresh bread vending machine.
http://www.davidlebovitz.com/2011/02/the-french-bread-machine/
Geek Picks of the Week
Every week Josh and/or I will give you our geek picks of the week, these could be anything from iPhone apps to a great sandwich recipe (more likely to be an app though).
Josh's Picks of the week – "Burger Queen" (for iPhone) from Crecat Soft: $1.19 and "Battleheart" (universal for iPad and iPhone) from Mika Mobile: $1.19. David's picks of the week – "The Oscars" (for iPhone) from The Academy of Motion Picture Arts and Sciences: it is free and "Helmet Hero: Head Trauma" (for iPhone) from Lowell Duke: it is currently free.
AND TO FINISH OFF…
And to Finish us off, Delta pointed us to this new geek anthem on YouTube. The song is cute but the video is hot as it stars Caprica's Alesandra Toresanni in a Princess Leia bikini! Oh yeah, Big Bang Theory's Kunai Nayaar and Richard Hatch are in it too. Here is Tonight I'm Frakking You.
http://www.youtube.com/watch?feature=player_embedded&v=sKFW6QeGvns#at=41
As always this episode carries an explicit tag due to possible bad language.
Listen or download it here or subscribe to it on iTunes
Podcast: Play in new window | Download
Help Support The David Storms America Tour – check the donations link on the sidebar. Find out more about this here.
If you have any comments about the episode or really geeky links, please leave them in the comments field below or email us at feedback@geekactually.com or send us a voicemail at 02 8011 3167 or Skype ID: geekactually (If you'd prefer to send an mp3 voice mail, mail it to the email address above and make sure the file is under 10mb.). If you are an iTunes user, please leave a review.
Like to geek out at the movies? Listen to our movie show, Film Actually. You can listen to it on the site or subscribe to it on iTunes.
Join us on our Facebook Fan Page: facebook.com/GeekActually
Make sure you check out our new range of Geek Actually swag at cafepress.com.au/geekactually
The Reel Junkies podcast can be found at weekendronin.com
Find out about Josh's other site and to listen to his other show DLC Live go to RawDLC.com
Our cover art by Josh Spencer attackninja.blogspot.com and our opening theme is by Grant Noy.