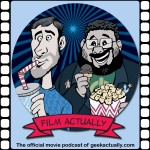 Hosts: David McVay & Josh Philpott
This week we review the new Liam Neeson thriller "Unknown". We also take a look at the new red band trailers for "Bad Teacher" and "Paul" in our Entertainment Buzz section and deliver a brand new Lists of Five – Five Great Thrillers. So sit back, crank up the volume, grab a cold one and enjoy. Film Actually is the official movie podcast of geekactually.com.
*Update 31/07/2012 – Film Actually was a split off from the main Geek Actually show and originally maintained numbering continuity with that show. That logic no longer works as the shows have become two unique entities, so we have gone back and re-numbered the Film Actually shows to reflect their true episode number. This show is now officially episode 29 but when you listen to the show you will hear it referred to as episode 121, this is why. Sorry about any confusion or inconvenience.
Film Actually is recorded live every Saturday. Go to geekactually.com/live for the schedule and to watch it
Your show notes:
We open the show with our final predictions for this year's Academy Awards.
Feature Film Review
'Unknown' directed by Jaume Collet-Serra and written by Oliver Butcher and Stephen Cornwell based on the novel "Out of My Head" by Didier Van Cauwlaert. It stars Liam Neeson, Diane Kruger, January Jones, Aidan Quinn, Bruno Ganz and Frank Langella.
A man awakens from a coma, only to discover that someone has taken on his identity and that no one, (not even his wife), believes him. With the help of a young woman, he sets out to prove who he is. – Source: IMDB
Our Verdict: A ponderously long and predictable thriller that isn't very thrilling. Wait and catch it for free on TV sometime in the future.
Watch the trailer & clip here http://trailers.apple.com/trailers/wb/unknown/
Entertainment Buzz
New Red Band trailer for "Bad Teacher", so wrong in every way – when can I see it :-)
http://www.slashfilm.com/bad-teacher-redband-trailer/
Kevin Costner cast as Jonathan Kent in "Superman"? I thought it wasn't an origin story!
http://www.latinoreview.com/news/kevin-costner-s-superman-role-revealed-12685
More "Prometheus" news.
http://www.slashfilm.com/ridley-scotts-prometheus-feature-giant-animatronic-alien/
New "Paul" Red Band trailer. I'm warming to this film.
http://www.youtube.com/watch?v=hww3hSVWiMQ
Dario Argento making Dracula! In 3D! With Rutger Hauer! Sign me up!
http://www.slashfilm.com/rutger-hauer-cast-van-helsing-dario-argentos-dracula-3d/
D.J. Caruso tweets, he IS making Preacher. Shit.
http://www.slashfilm.com/dj-caruso-tweets-directing-preacher/
Lists of Five
This week our Lists of Five is in tune with our feature review: Five Great Thrillers.
Just a reminder, because we never like to just make things easy on ourselves, our lists are not necessarily top five lists, they are more or a less a list of film recommendations within the theme of the list. The full lists can be found on our Facebook page.
Our Lists of Five this week sparked an impromptu discussion on Alfred Hitchcock and his films. We recommended a slew of Hitchcock films to watch, I'll put the list of films up on our Facebook page.
This episode carries an explicit tag due to infrequent coarse language.
Listen or download it here or subscribe to it on iTunes
Podcast: Play in new window | Download
Geek Actually is currently trying to raise money to send David to America, we call it THE DAVID STORMS AMERICA TOUR. Any amount is welcome. Donations accepted on the sidebar. Find out more by clicking here.
Send feedback for this show to feedback@geekactually.com or leave us a voice mail message to play on the show at (Sydney number) 02 8011 3167 or Skype ID: geekactually (you can also send us an mp3 file if you'd prefer). If you are an iTunes user, please leave a review. Your comments (good or bad) help us improve the show.
Join us on our Facebook Fan Page: facebook.com/GeekActually
Follow David on Twitter: @davidmcvay – Follow Josh on Twitter: @Dogm3at
Get your Geek Actually swag at cafepress.com.au/geekactually
Make sure you check out our other fine podcast Geek Actually for all your geek cuture needs.
David's "My Year With Movies" blog is on Tumbr
Listen to Reel Junkies podcast by going to weekendronin.com
Find out more about Josh's other show, DLC Live, and Movember go to rawDLC.com
Our show logo is by Josh Spencer over at Spencer Cartoons at http://attackninja.blogspot.com/
The closing music this week is from John Ottman's score to "The Usual Suspects".
For information on the Unofficial Geek Actually Movie Club screening times and titles, visit our Facebook page.