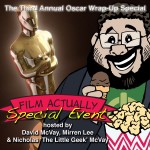 Welcome to our Third Annual Oscar Wrap-Up Show. Every year we watch the Oscars live (this year I live blogged it as well, read that here) and then immediately hit the studio and record our thoughts on the ceremony (the highs and the lows), the hosts and, of course, the films themselves.
This year David McVay (who is Joshless) is joined by Mirren Lee (Actor/Director/Dialect Coach/Ex-Casting Agent) and Nicholas 'The Little Geek' McVay to dissect the 2011 Academy Awards.
Just a quick reminder that this is a special bonus episode, the actual Film Actually podcast, hosted by David McVay & Josh Philpott,  follows a much more disciplined structure and can be found on the feed every Monday.
This episode carries an explicit tag due to infrequent coarse language.
Listen or download it here or subscribe to it on iTunes
Podcast: Play in new window | Download
Send feedback for this show to feedback@geekactually.com or leave us a voice mail message to play on the show at (Sydney number) 02 8011 3167 or Skype ID: geekactually (you can also send us an mp3 file if you'd prefer). If you are an iTunes user, please leave a review. Your comments (good or bad) help us improve the show.
Join us on our Facebook Fan Page: facebook.com/GeekActually or Follow David on Twitter: @davidmcvay
Get your Geek Actually swag at cafepress.com.au/geekactually
Listen to Reel Junkies podcast by going to weekendronin.com
Find out more about Mirren Lee by visiting mirrenlee.com and Find out more about Nicholas McVay at Youtube.com/NickyMcvay
Make sure you check out our other fine podcast Geek Actually for all your geek cuture needs.