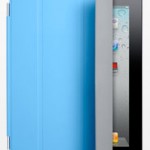 Well we knew it was coming and we pretty much new everything about it before the announcement but now it is all official. The iPad 2 will hit stores on March 11th in the United States. No word on the Australian release date yet, but Apple has set up a "be notified" page on their site so you can be one of the first to get it when it is released. Can I just say, those notification pages never seem to work and I was listed on the notifications thingy for iPad 1 and iPhone 3GS & 4 and never got any kind of advanced notification, okay gripe over.
What's new? Slimmer and lighter design but maintaining the same screen size, this is good. My only small gripe about the iPad 1 is that it can get a little heavy when I read a lot of comics. Apple's website also claims that the screen is now coated to resist fingerprints, if this is true, that is awesome. It has,the now standard, front and rear facing cameras for Facetime and video and still recording. It looks like the cameras are the same spec as the iPhone 4. It is now running a 1GHz duel core A5 processor and boasts that it is twice as fast as the original iPad, this is also awesome and should be fantastic for those new high-end games like Infinity Blade. Also a welcome addition to the new iPad 2 is a gyroscope, since adding this to the iPhone, games have become even more fluid and accurate.
Also a new addition that is most welcome is the ability to mirror the display onto a TV like in the Apple keynote presentations. I have wanted this feature since day one, as have a lot of people, but Apple has resisted. Now, I don't know if this is just a feature of the upcoming iOS 4.3 update or iPad 2 specific but either way, good on you Apple.
Oh yeah, Apple is also claiming that you can pick up both black and white versions of the iPad 2, I'll believe this when I see it. Apple still hasn't released a white iPhone 4.
The new iPad 2 also has an add on accessory that I think should have just come in the box with the device but that is not Apple's way. The accessory is a magnetic cover that can fold up and become a stand. It is a neat idea but I still like my leather cover.
I think the most impressive thing about the new iPad is the price! It is at the same price point as iPad 1 which is going to really squeeze competitor's tablets. In Australia, if you can find one, the original iPad has dropped it's price and you can now get them starting at $449 for the 16gig Wi-Fi model.
Want to read more about the new specs and look at a couple of pretty videos on the new device, head over to Apple's website.
What do all think? Gonna buy one? Gonna Replace your existing iPad? Comment below.